Ga Tech BSU Alumni Gathering at Hiawassee
October 21-23, 2016
For the continuity of this treasured gathering we express our thanks to Frank and Babs Gudger who have worked faithfully to keep us in contact and handle the arrangements for these events.

Always in these gatherings, we honor the memory of Warren Woolf, who as the BSU Director at Georgia Tech was the catalyst for the development of this close community. And we honor Sue Woolf who was always beside him and also contributed greatly to all of our lives in the process.
| | | |
| --- | --- | --- |
| | | We gathered on Saturday morning and Frank introduced his Pastor, Dr. Dock Hollingsworth, who spoke to us about the nature of today's church and the challenge to pastors, and to groups of persons like ourselves in our stage of life. |
This was our only large group gathering except for the dinner last evening. Front row L-R Walt and Carol McKinney, Bill and Beth Norman. 2nd row: Dewey and Susan Burdine, JoAnn and Jim Splawn, Dock Hollingsworth, Rudy and June Matzner, Ann and Mike Wallace. 3rd row: Henry and Betty Fields, Charlie and Wynelle Middlebrooks, John and Nancy Baxley, Brenda Nave, Dick Whisnant. 4th row: Frank and Babs Gudger, Bill and Jean Arrants, Alice and Andy Blake, Aubrey and Carol Bush, Nancy Bonds.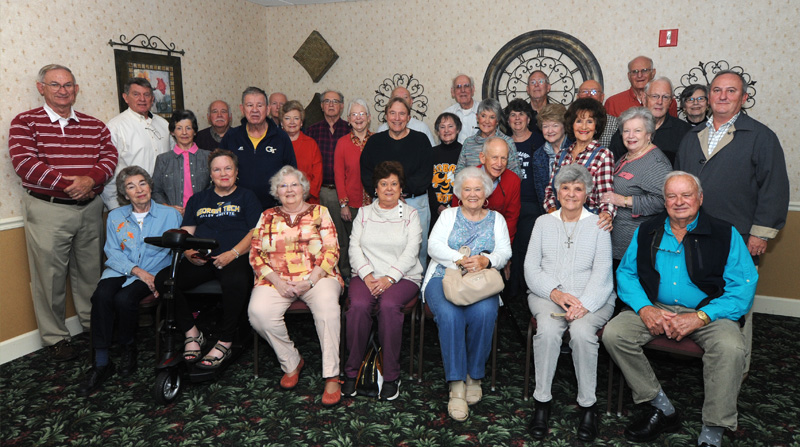 After our Saturday morning gathering, we collected the group for a picture. From L-R the standing group includes Mike Wallace, Jim Splawn, Wynelle Middlebrooks, Jim Green, Charlie Middlebrooks, Bill Norman, Nancy Bonds, Dick Whisnant, Nancy Baxley, John Baxley, Frank Gudger, Carol Bush, Aubrey Bush, Rudy Matzner, Jean Arrants,Carol McKinney, Walt McKinney, Susan Burdine, Babs Gudger, Dewey Burdine, Andy Blake, Betty Fields, Henry Fields, Alice Blake, Dock Hollingsworth (Pastor from 2nd Ponce de Leon Baptist Church). Seated, front row L-R Brenda Nave, Beth Norman, Elaine Whisnant, Ann Wallace, June Matzner, JoAnn Splawn, Bill Arrants.


Index
2016