Pictures from Pearl River
Jeff and Darla help keep us up-to-date on happenings there with the girls since our visit in May.
Awards day at school for Ashleigh and Jordan as they come to the end of their school year.
| | |
| --- | --- |
| | Darla sent us pictures of the girls taken of June 14. Jordan holds Elyse in the front flower bed. |
Big sister Ashleigh plays with Elyse, who can now sit up well on the bed.
The long-awaited swing set is finally in place. Ashleigh shows it off from the top. We had hoped to help with the installation when we were down there Memorial Day, but the rain and the delays of the tree cutting stalled the project. They sent us these pictures on June 21.
| | |
| --- | --- |
| Jeff has been busy, and also got the sandbox installed. Pretty fancy. The girls seem to be enjoying it. | |
| | |
| --- | --- |
| | All three girls on this super-heavy-duty swing set. It certainly looks like it can hold up the whole family without even straining. |
Ashleigh and Jordan on their swings on one end of the swing set, with the inset showing Elyse in her swing on the other end of the set. This shows the location of the set in relation to the back of the house.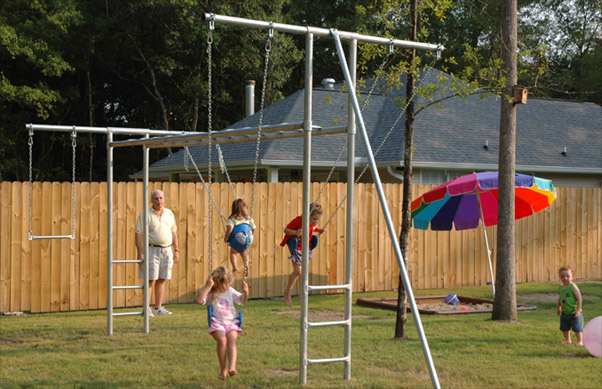 | | |
| --- | --- |
| | The family is gathered on June 25 for a "swing-set warming" party. All the kids seem to be taking to the swing set like a bunch of monkeys. |
| | |
| --- | --- |
| Wow! Ashleigh seems like such a big girl, feeding Elyse. Both she and Elyse are growing like weeds. | |