Uncle Albert's 90th Birthday Celebration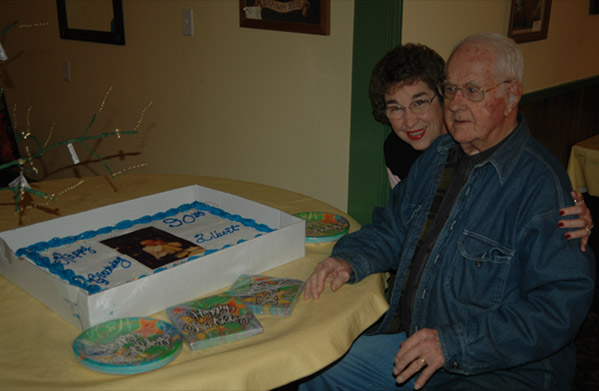 Brenda with Uncle Albert and his 90th birthday cake. We gathered at the Dogwood Restaurant in Hiram, his favorite restaurant, for the celebration.
| | |
| --- | --- |
| | Brenda, Sherry and Lynne with Uncle Albert. Lynne, his daughter, had worked hard to get us together for this celebration. There were about 40 persons present. |
A photograph of Albert playing his beloved harmonica was placed on his 90th Birthday cake.
We all contributed to a "money tree" as a gift to Uncle Albert, and the base of the tree was ringed with Juicy Fruit gum. The gum is a significant symbol in our memory of Uncle Albert. He always had candy or gum to give to the kids and to the ladies. Usually it was Juicy Fruit. He would give Juicy Fruit to waitresses, to all the kids, to just about any lady he met.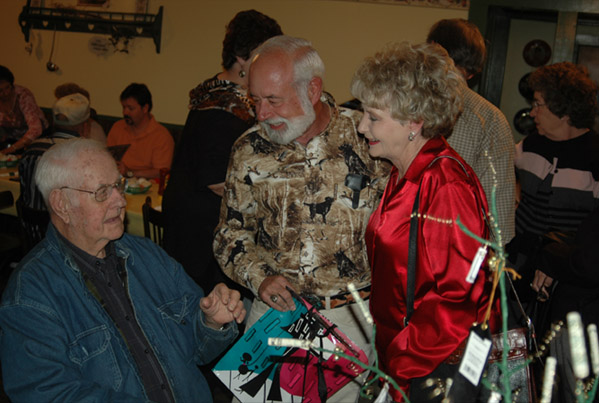 Wayne and Shirley enjoy a moment with Dad. They are enjoying their retirement and traveling a lot. They told us about a big trip out west, and were leaving the next day for Florida.
| | |
| --- | --- |
| Brenda joins the reminiscences and they looked at some old photographs. | |
| | |
| --- | --- |
| | Albert was presented with a nice frame with wartime mementos. He is at bottom right in the photo. His dogtags and his stripes were included in the frame. His service was in the Philippines in World War II. |
| | |
| --- | --- |
| | We were pleased to see old friends Kenneth and Lois Cheatham at the celebration with Albert. They had just celebrated their 61st wedding anniversary. |
| | |
| --- | --- |
| Roger and Denise sat across the table from us and down from Kenneth and Lois. | |
| | |
| --- | --- |
| | We finally got Uncle Albert seated at the head of the table to eat with the group that had gathered to honor him. But truth be told, he had probably rather play his harmonica than eat. So he had the opportunity to do that also. |
| | |
| --- | --- |
| Finally we light the candles for this 90th birthday celebration. | |
Index
2006