Georgia Aquarium
March 18, 2006
The Beluga Whales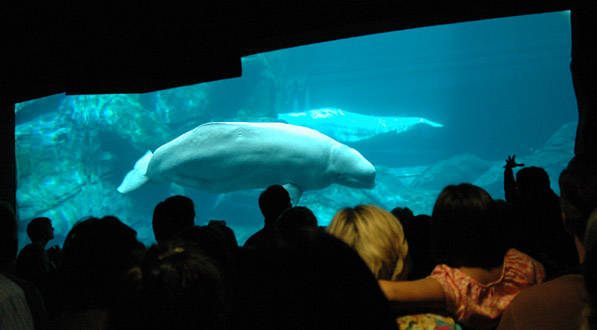 The beluga whales are a unique feature of the Georgia Aquarium and they certainly attracted a crowd. The viewing room was absolutely jammed with people.
| | |
| --- | --- |
| | The belugas really put on a show. They were really white, with very smooth and pliable skins. We got to watch their feeding, where each whale went to its station to be fed. |
Near the belugas were these strange creatures. I suppose they are fancy versions of seahorses, but some looked like swimming shrubberies.
A solid mass of people moved into the big tunnel under the large tank. The visibility was good and it was quite remarkable.
Overhead swam a large school of rays.
| | |
| --- | --- |
| | A big grouper swims by, providing a nice photo-op for the folks in the tunnel. |
| | |
| --- | --- |
| | We moved on through the tunnel and to a veiwing area with a huge acrylic window. There we got a good view of one of the most famous citizens of the Aquarium, the large whale shark. We were intrigued by the fact that several fish preceded the whale shark. It was explained to us that they were quite safe there because the whale shark eats only tiny krill. When small fish accompany a grouper, they stay on its tail because its mouth area is definitely not safe. |
| | |
| --- | --- |
| This was one of the more remarkable creatures we saw. It looks like a shark, but is in fact a ray. You can see the ray-like mouth on his underside. Actually, my first impression was that it looked more like a jet plane than a fish. | |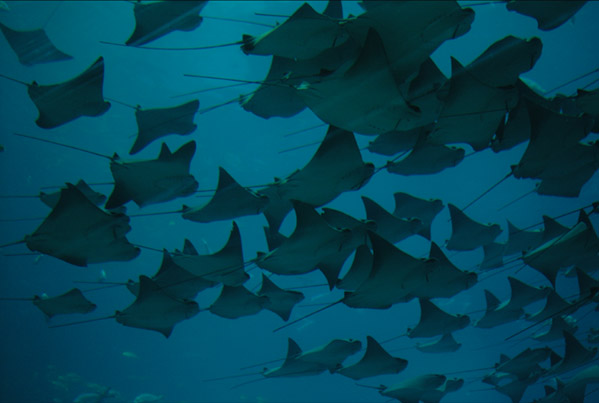 Through this big viewing window, we got even better views of the remarkable school of rays. This was really an awesome sight - one of the biggest surprises to me in the Aquarium.
The last stop on our tour was an area fashioned like a shallow reef, with waves breaking over the top of it. There were a lot of colorful tropical fish, and it was very reminiscent of the shallow reefs we dived in the Keys.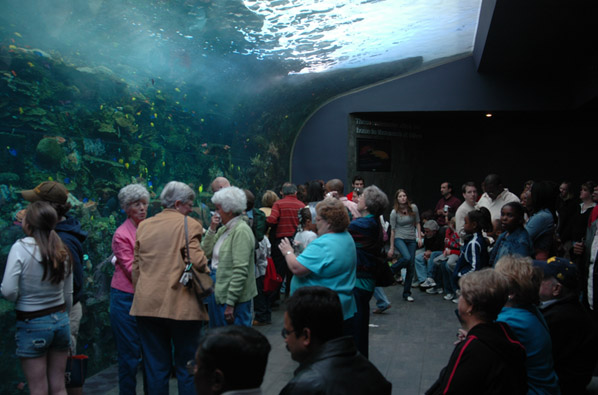 This shows the design of this area, with some kind of wave machine above us to keep the waves breaking over the reef area. This area was very crowded, as all the other areas had been. But everyone was good-natured and seemed to be having a good time.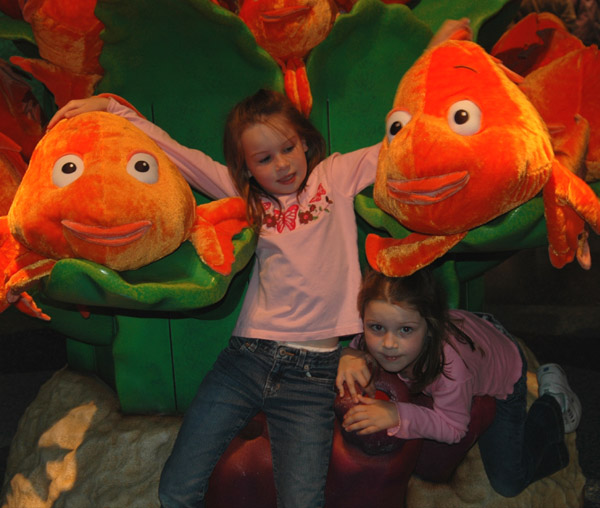 We finally had to come back to the gift shop area on our way out.
This is our crew on the way out. We headed for the Varsity for lunch, and found it wall-to-wall crowded as well. We joked about really having had our crowd fix for the day, but all of it was enjoyable.