Visit with the Davis family, Charles and Wanda, Philippe and Mary Sue
May 12, 2007
Charles and Wanda flew in from Sacramento, California on Thursday May 10 for a long anticipated visit to record some of their experiences as missionaries in Colombia, Paraguay, and Argentina. On Saturday we drove up to Roswell to visit with the Davis family, and grandparents Philippe and Mary Sue drove down from Cleveland, Tennessee.
Wanda gets to meet Joshua Davis, the newest member of the family, held by proud grandpa Philippe.
Charles and Wanda came into town for a visit on May 10. We have been planning a time with them to record some of their missionary experiences in South America. On Saturday, May 12 we went up to Michael and Suzanne's to visit with them and with Philippe and Mary Sue. That got three of Rod's generation together.
Philippe, Rod and Wanda on the couch at the Davis's. When was the last time the three of us were together? It may have been over 20 years.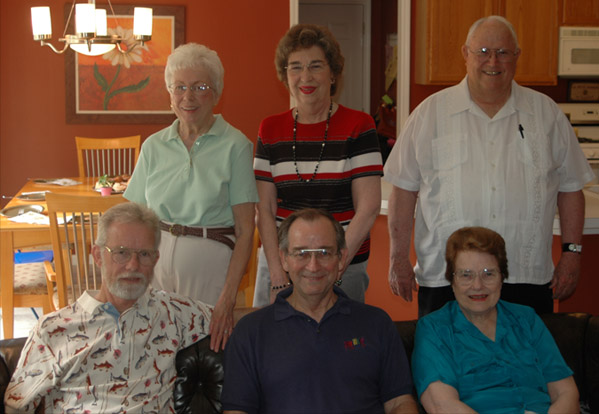 | | |
| --- | --- |
| | Three generation picture of Joshua, Suzanne and Mary Sue. |
| | |
| --- | --- |
| It was a great visit which gave us a little time to sit around with nice pastries and coffee to talk, and the opportunity to pass around little Joshua. Joshua was wide-eyed and very patient with all the attention. | |
We didn't give Michael and Suzanne much time with Joshua this afternoon, but they were very gracious in hosting this invasion - a rare time for this many of the family to be together.
Index
2007