Family Visit to Newport, Arkansas
May 8-14, 2010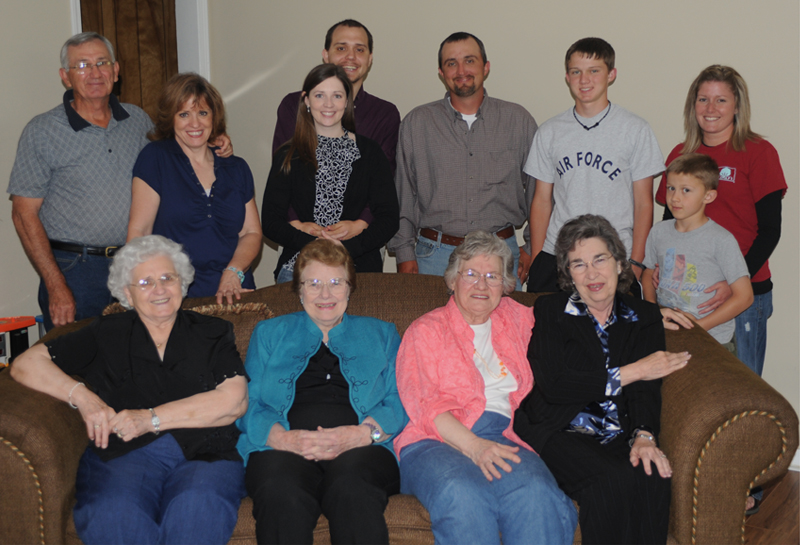 After a fine Mother's Day dinner at Suzanne and Bobby's we gathered the family into the den for a picture. Back: Bobby and Suzanne Lassiter, Will Bryan and Mary Lassiter, Brent and Mandi Lassiter with sons Garrett and Eli. Seated are Bobby's Mom, Wanda Hobson, Dorothy Tirey, and Brenda Nave.
Now Mary and Mandi take shots at the group.

We had driven from home on Saturday, May 8, through Memphis and to Little Rock to pick up Wanda at the airport. We attended church at the First Baptist Church of Newport and then gathered for the family celebration at dinner.
The whole family went to Newport FBC and took up most of the second and third rows.

Suzanne at far right sings with the choir and also is the piano accompanist for the service.
| | |
| --- | --- |
| | We were very pleased to have a little time to visit with Will and Mary before they had to head back to northwest Arkansas. They are a delightful young couple and always get along so well. |
| | |
| --- | --- |
| | Eli and two girls from his violin class played at the local nursing home on the afternoon of May 11. We went to listen. |
| | |
| --- | --- |
| Eli had a solo, and he was very serious about it - playing carefully with full concentratioin. | |
We went from the violin concert to the ballfield where both Garrett and Eli were playing. Garrett was warming up to enter the game as the starting pitcher.

Later in the game he moved to third base.

Eli's game starts later, and he is in the game at second base.

Below, he gets a hit when he gets up to bat.
| | |
| --- | --- |
| Eli beats out the throw to first base, so he's on base for a hit. | |
| | |
| --- | --- |
| | Philippe and Mary Sue arrive on Monday, May 10, so that puts four of this Nave generation together for the first time in a long time. |
| | |
| --- | --- |
| It was good to get Suzanne, Mary Sue and Brenda together. We all enjoyed hours of conversation and catching up on the happenings in each other's lives. | |
| | |
| --- | --- |
| | Bobby and Suzanne were gracious and patient hosts for all this crew. Brenda and I with Bryan and Mary were there for the weekend, then us and Philippe and Mary Sue the rest of the week. Then there was constant coming and going with Dorothy and Wanda and Bobby and Suzanne's extended family. It was great fun! |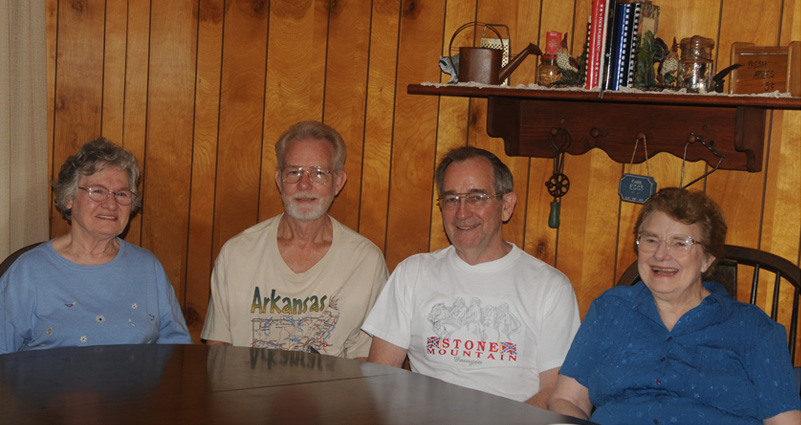 We finally got Dorothy, Philippe, Rodney and Wanda together in one place on Wednesday, May 12. When we got together, Suzanne had usually put food in front of us, so the setting is a little unusual. We did enjoy the meals together!
Index
2010