Painted Desert and Petrified Forest
May 31, 2011
Agate Bridge

This petrified log bridge over a ravine is one of the famous landmarks of Petrified Forest, but rock logs crack, and this one has had to be shored up by concrete to preserve it. Agate is a form of quartz usually characterized by bands of different colors caused by changing concentrations of secondary elements during the crystallization process.
Jasper Forest
Jasper is a form of quartz which is commonly red. The closeup of a log in Jasper Forest shows the red color you expect from Jasper.
In the Jasper Forest area we found long logs lying on the ground, so Jeff and family are sitting on a jasper log.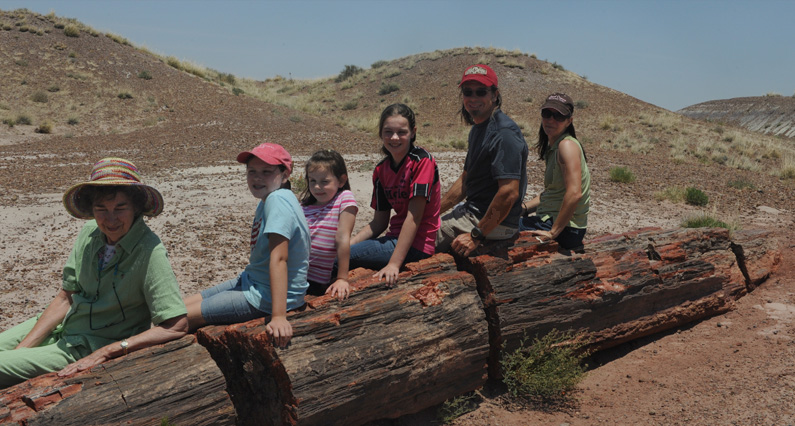 Grandma Brenda joins them on the jasper log. It certainly shows the evidence of being a log from outside appearance, but at all the breaks shows the red color of jasper.
| | |
| --- | --- |
| Rod and Brenda take a turn on the log. Then Elyse gets Grandma's hat and poses with Uncle Mark and Jordan. | |
| | |
| --- | --- |
| We don't get Mark, Jeff and Rod in a picture together too often! All of us had to travel a long way to get this one. | |
High hopes but fat chance!

Elyse doesn't really think she can lift the petrified log, but probably doesn't perceive how heavy it really is. Guessing 2ft diameter and 18" high for wood that would just float, it would weigh nearly 300 lbs. But since it is quartz with density 2.65 x that of water, it would weigh nearly 800 lbs. Better to just skip along the top of the logs!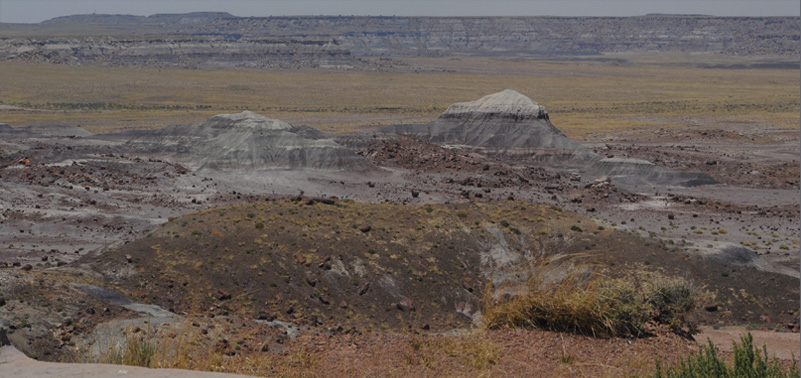 Jasper Forest was a nice relaxing place after our long hike at Blue Mesa. In our distant views we could see large collections of large fragments of petrified logs, all appearing the red color of jasper.
Crystal Forest
| | |
| --- | --- |
| | We drove to the parking lot of the Crystal Forest area and were met by the official welcoming committee. Each parking lot had its designated raven, and only one - like they worked out assignments in their morning meeting as I accuse the crows at home of doing. They were fine specimens of ravens. |
| | |
| --- | --- |
| | Crystals in a petrified log in Crystal Forest. |
The 3/4 mile trail through Crystal Forest took us by much larger petrified logs than we had seen earlier in the Petrified Forest National Park. Mark and Ashleigh are on the trail through the big logs.
This shows the wide vista we had before us on the Crystal Forest trail.
| | |
| --- | --- |
| | This long petrified log protrudes out of the ground and then has broken apart into numerous segments. It is a good example of the long logs found here. It was pretty much as we had seen it in 1982, except that now there was a paved trail by it. |
| | |
| --- | --- |
| The trail took us by some very long logs. Ashleigh sits on a very hard bench - it looks like wood, but it is really very hard rock. It is part of the very long petrified log shown in the picture above. | |
| | |
| --- | --- |
| | The logs were very solid, indicating almost complete replacement of the original wood cells with quartz. The outside of these logs looked remarkably wood-like. |
| | |
| --- | --- |
| This was probably the largest log we saw, with diameter almost equal to Ashleigh's height. | |
| | | |
| --- | --- | --- |
| | | There was a considerably greater range of crystal color in Crystal Forest. From the signs, they have had more trouble with theft as a result. |
Our last stop in Petrified Forest was the area of Long Logs and Giant Logs. But when we arrived there, it had been developed into a Gift Shop, a Museum and a covered picnic area. The almost deserted area we had found in 1982 where Jeff and Mark had run over the tops of the blue humps was not in view at all.

We had lunch at the picnic area and visited the gift shop, but we were all pretty worn out from hikes in four areas, so we passed on looking for the humps.
| | |
| --- | --- |
| | We headed back to Holbrook from the south end of the Petrified Forest National Park and decided to drive to Winslow to the E&O Mexican Restaurant that Jeff had found on the web. We had a very nice family dinner at this little restaurant right by the small airport on the south end of Winslow. One the way back on I-40 we had views of a beautiful Arizona sunset and stopped to enjoy ice cream at the Dairy Queen in Holbrook before heading back to our motel. |
| | |
| --- | --- |
| I had really enjoyed our family meals together on the trip, and the trip to Winslow was relaxing after a long day of adventure in the Petrified Forest. We enjoyed the sunset on the return to Holbrook, and it seemed fitting on the sunset of our trip since we would head back to Phoenix tomorrow and then part company for the trip back east. | |
Index
2011