Navajo Loop Return
May 29, 2011
We had walked about 0.7 miles in on the Navajo Loop Trail to find the return part of the loop closed. Ashleigh is headed along the trail in the bottom of Bryce Canyon as we return toward the switchbacks of our approach trail.

Ashleigh walks on the fine trail surrounded by the high rock spires.
One moment we were walking in the open with the towering rock hoodoos above us, and the next we entered this narrow canyon where the high walls closed in on us.
Mark heads out of the narrow, dark canyon and up the switchbacks with Elyse, Jordan and Darla. The shadowy figure behind with the water bottle is Jeff.
After a brief stop for water and an apple, everyone is charging up the switchbacks.

Below, as I was trying to get a shot of Darla and Jeff, Jordan passed me and was above, and Elyse came running up to me.
| | |
| --- | --- |
| | The view of Jeff, Darla and Elyse at left gives some idea of the size of the upper switchbacks, and the view below shows a series of them going down. That is Mark on the third level down. |
| | |
| --- | --- |
| | At times we were immersed in a sea of red rock. |
Another perspective of the extraordinary set of switchbacks that descended to the floor of the canyon.

Below, Mark is centered on the series of switchbacks. I think I can count 13 in these photos, and there are several more small ones, so I think about 20 in all.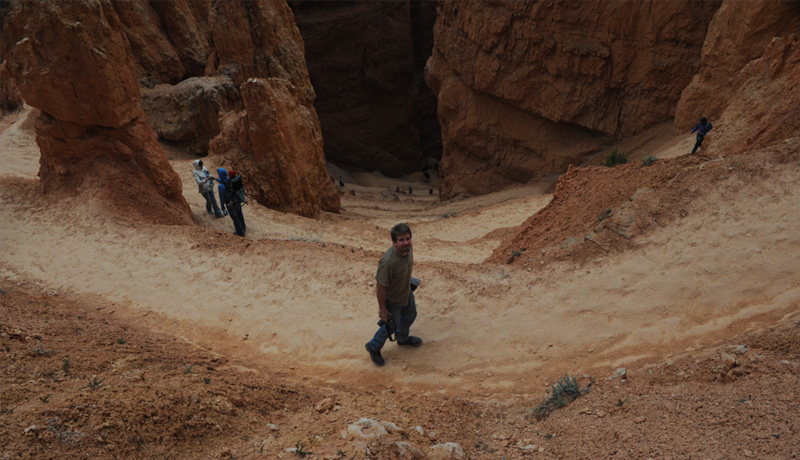 Index
2011