Sedona and the Red Rock Area
May 24, 2011
From Montezuma Castle we drove about 26 miles into the red rock area to Sedona. Soon after turning on Hwy 179 from I-17 we began to get the nice vistas with the red rock formations.

Another of the beautiful red formations along Hwy 179 near the Village of Oak Creek.
| | |
| --- | --- |
| | The entrance to the red rock area is pretty dramatic. This is approaching the visitor center just before the Village of Oak Creek. |
| | |
| --- | --- |
| | Elyse and Jeff at the visitor center at the beginning of the red rock area. |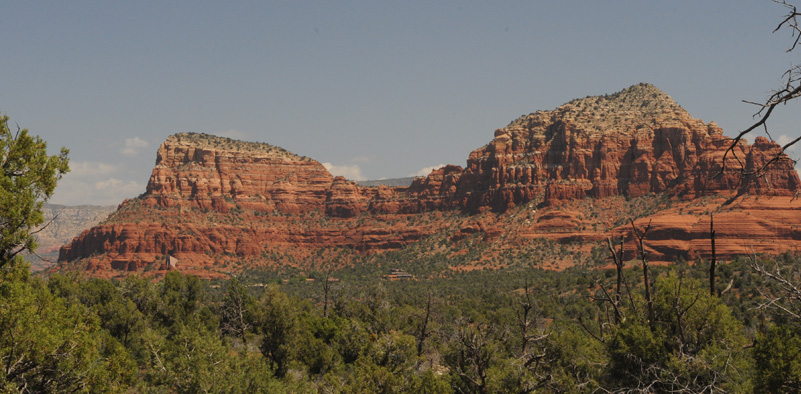 | | |
| --- | --- |
| The views above and right are from a scenic pullout in the edge of Sedona. It is surrounded by these formations. | |
| | |
| --- | --- |
| | This is the Chapel of the Holy Cross in Sedona, built into the beautiful red rock hillside. |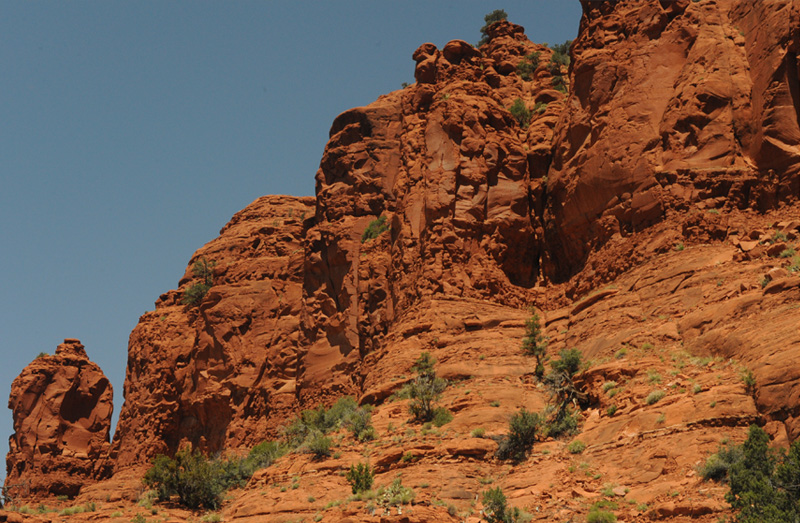 | | |
| --- | --- |
| Above is a view of the red wall that stands above the chapel. At right is a detail of some of the rock forms on the top. | |
| | |
| --- | --- |
| | This is a popular place and was crowded, but we found a parking space near the top and prepared to walk to the chapel. |
The combination of red rock, green plants and blue sky was very beautiful. We could look across Sedona at other formations. The formation in the distance is Cathedral Rock.

This house below the chapel is a very large, 44,000 square foot house complete with observatory.
There is an extensive lawn with gardens, ponds and waterfalls, as well as two indoor pools - one for people to swim in and one for koi. The indoor koi pond reportedly cost $1 million, and the entire house cost $24 million.

You would think such a big, fancy house would belong to a celebrity or sports star, but it doesn't. It belongs to a man from Romania who holds numerous European and U. S. parents for medical devices, including the laser scapel.
| | |
| --- | --- |
| | We enjoyed the visit to the chapel and all the views its location gave us. |
| | |
| --- | --- |
| | We went through Sedona to Hwy 89A and south to a viewpoint near the airport that the lady at the Visitor Center had told us about. We could see a wide expanse of the city as well as the nice formations. I use "city" deliberately since Sedona sprawls throughout the valley. It is not the little quiet artist colony it was many years abo. |
| | |
| --- | --- |
| With the view overlooking Sedona and the red formations, this was an irresistable place for family photos. | |
| | |
| --- | --- |
| | Even Grandma and Granddad got in on the act, even though Granddad in particular has a strong preference for staying on the other side of the camera. |
Index
2011