Awana Racer Derby
February 16, 2011
The cars are weighed in, the race ladder is set up, and we are ready to start the 2011 Awana Racer Derby. We had an enthusiastic group for breakfast and the trial Awana derby on February 5, and now an excited group of kids and parents gather for the big event.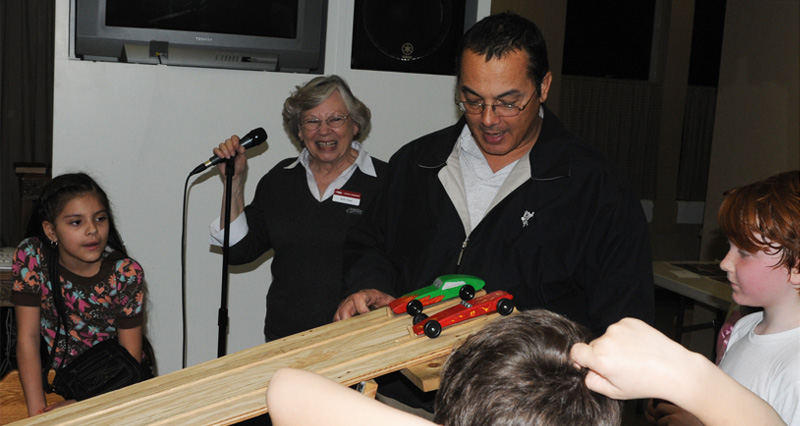 Gary Oxendine is the official starter, Ricky and Billy Ridgway man the finish line, Ruth Floyd and Johnny Huffman call the racers, and Rod Nave mans the race ladder.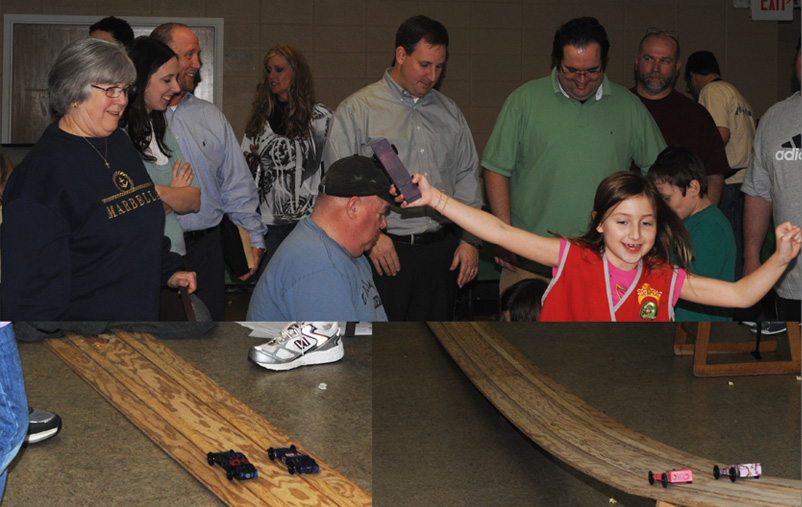 There were lots of close races. This shows the crowd of parents and grandparents around the finish line. Abigail Byrd wins a race and heads back to the start line with her car.
| | |
| --- | --- |
| | Gary starts another race with a crowd around. |
The race winners for Sparks were:

1st: Andrew Short

2nd: Kaylee Smith

3rd: Abigail Byrd

Sparks consists of Kindergarten, 1st and 2nd grades.
The style winners for Sparks were:

1st: Meagan Brookshire

2nd: Drew Ridgway

3rd: Riley Brooks
(not shown)


The race winners for T&T were:

1st: Linzie LaRue

2nd: Lexi Hobgood

3rd: Michael Gilman

Truth and Training consists of 3rd, 4th and 5th grades.
The style winners for T&T were:

1st: Katherine Vela

2nd: Olivia Ludwick

3rd: Connor Smith


Overall Winner
Andrew Short

We had a race-off between Andrew Short, winner for Sparks, and Linzie LaRue, winner for T&T. Andrew was the winner of that race-off and the overall race winner for this year's Awana Racer Derby.

Andrew went home with an armload of trophies! He got one for winning in Sparks and then a bigger trophy for being the overall winner.
Index
2011