Awana Breakfast and Trial Awana Racer Run
February 5, 2011
A large group gathered for this months Awana breakfast, occupying seven tables. Part of the attraction for the breakfast was the trial Awana Racer Derby which followed. Everyone arrived in good spirits so we had a great time of fellowship even before the breakfast.
Laurie and Leanna Wagner arrive with their cars painted, decorated and ready to race. At right Nan LaFlash and granddaughter Courtney McDonald .have their sausage and are waiting for a pancake
| | |
| --- | --- |
| | Dylan Bates and Joshua Kelley arrive with their cars complete and dig into a pancake and sausage. |
Johnny Huffman serves pancakes to Scott and Drew Ridgway and Garrison and Kurt Ridgway. Nan and Courtney behind have gotten their pancakes now.
Johnny makes the rounds with sausage. Joshua Kelley, Connor Smith, Scott Kelley.
Altogether we had about 40 persons for breakfast, and probably another 10 showed up for the trial runs. In the composite picture clockwise from upper left are Scott and Drew Ridgway, Jon Rowland with granddaughter Lexi Hobgood, Makenzie Gilman and Aubrey Byrd playing, Brenda Nave and Billy Ridgway, Garrison and Kurt Ridgway, Abigail Byrd with Kaylee Smith, Mrs Larue with Linzie and Buddy. Stan Johnson and Johnny Huffman cooked with the help of Pat Peal, Ruth Floyd, Brenda Nave, Elaine Ridgway, Scott Kelley and everyone else who came in pitched in with setting the tables, etc.
| | |
| --- | --- |
| | As soon as breakfast was over, attention turned to trying out their Awana Racer cars. Scott and Joshua Kelley work on putting the sections of the track together for the trial race. |
| | |
| --- | --- |
| Scott Kelley, Johnny Huffman and Chuck Smith at the starting line as the children crowd around to get their turn to race. Buddy Larue and Joshua Kelley on left. | |
| | |
| --- | --- |
| | Zoe Hobgood, Garrison Ridgway and Drew Ridgway station themselves at the finish line to catch the cars. The racers retrieve them there for another round. |
| | |
| --- | --- |
| Johnny Huffman and Chuck Smith check cars while Joshua Kelley lines up two cars at the starting line. Addison Duplantis in foreground. | |
| | |
| --- | --- |
| | Watching the start of a race are (clockwise) Buddy Larue, Dylan Bates, Joshua Kelley, Linzie Larue and Laurie Wagner. Below, Garrison and Drew wait to catch the cars, Buddy watches. |
| | |
| --- | --- |
| Joshua Kelley watches as Linzie Larue and Laurie Wagner start a race against each other. | |
| | |
| --- | --- |
| | While all this racing was going on, Rod operated a busy shop on the sidelines, weighing the cars, drilling holes for placement of lead weights, etc. Kurt and Scott inspect the cars for Garrison and Drew. |
| | |
| --- | --- |
| Aaron mounts up one of the cars he is working on with Maegan and Annie. At right, Buddy Larue checks out his car and gets ready for another race. | |
| | |
| --- | --- |
| Johnny prepares to release the cars for a race between Linzie Larue and Morgan Johnson. | |
| | |
| --- | --- |
| | Leanna and Laurie race against each other. Looks pretty close so far. |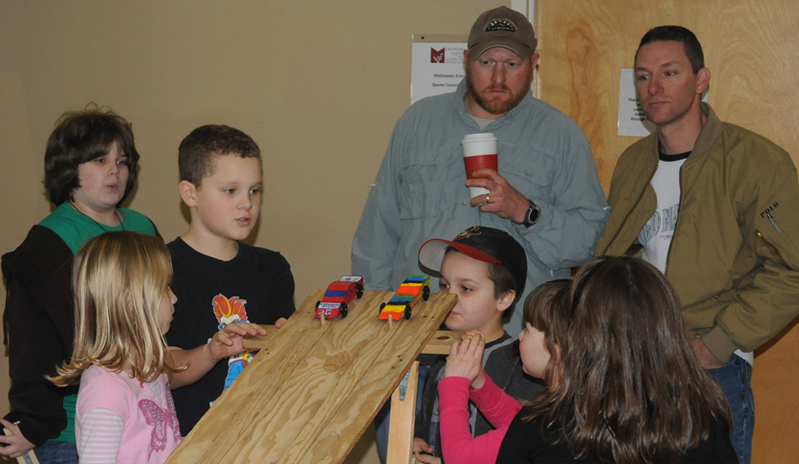 | | |
| --- | --- |
| Connor Smith in a race with Zoie Altshul. They are concentrating on the race, but not any more than their fathers standing behind them. Other onlookers are Kaylee Smith, Michael Gilman, Drew Ridgway, and Morgan Johnson. Addison Duplantis is also shown in the photo at right. | |
| | |
| --- | --- |
| | Buddie Larue watches intently the start of a race of his sister Linzie's green and red car. |
| | |
| --- | --- |
| Now Buddie's pickup truck is in a race with Laurie Wagner's. | |
| | |
| --- | --- |
| | A race between Kaylee Smith and Zoie Altshul with Addison Duplantis operating the starting gate. Leanna Wagner and Michael Gilman watch from the far side, and Laurie Wagner and Garrison Ridgway from the near side. |
The kids raced their cars, then went and got them and raced again for over an hour. The atmosphere was relaxed and everyone seemed to have a good time. We certainly feel that it is a good thing to have the trial race - not just for them to test their cars, but as just a fellowship with no pressure on it like the real race that is coming up.
It was delightful to just watch the kids. After having worked with them in Awana all this school year with their learning of Bible verses and their songs and recreation times, we know the kids pretty well. But more than just knowing them - we were talking afterward about how much they had gotten into our hearts.
Index
2011