Calahonda and the Club Marbella
May 31, 2017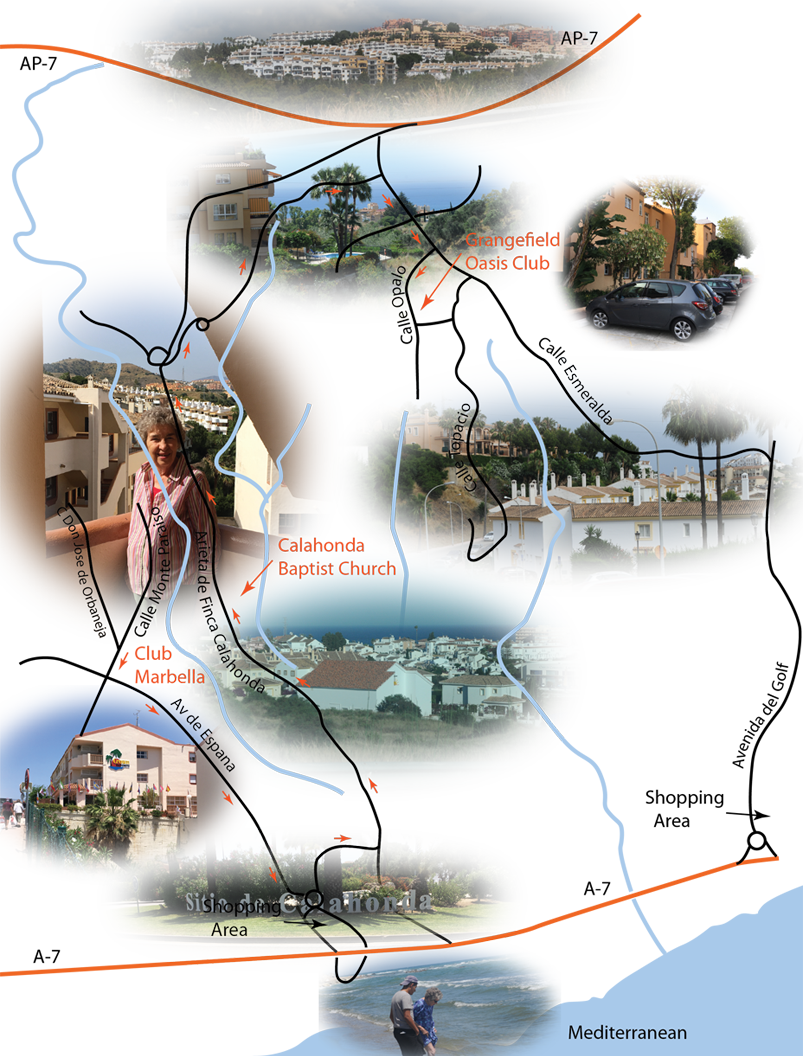 Before we left Atlanta, we had noted that the two resorts at which we would be staying were just over a half mile apart as the crow flies. But we had no idea how much of a departure from a straight "crow fly" we would be dealing with. It took us a week and three tries to find the Club Marbella from the Grangefield Oasis Club. Fortunately, by the time we actually had to move, we had gotten the route pinned down. The other amusing coincidence was that the Calahonda Baptist Church, which we had also noted before leaving home, was right on this circuitous route from one resort to the other! I just put on the map the roads we actually traveled, and there were dozens of others in this complex web of seafront housing - we joked that the roads of the area were laid out like a pile of spaghetti!
| | |
| --- | --- |
| | When we returned from Ronda we made our transition to the Club Marbella, a Crown Resort in Sitio de Calahonda. We had not been able to get two weeks in a row at any location, so this was our home for the second week. |
| | |
| --- | --- |
| The resort was very nice, but there are always things you have to learn about, particularly when you are in a different country. Our rooms were on the third floor, and there was an elevator, but it was just barely enough to fit three people into it, and that without all our luggage. | |
Our rooms were next door to the elevator, and from there we had a view of the nice garden down at ground level.

There were tiled staircases between the levels, and from them we had a view of the neatly terraced houses built on the slopes of the hills overlooking the Mediterranean.

Continuing with our learning process, we had to pay 24 euros for electricity in addition to our room rental, as we had at Grangefield. But here, there was a slot with a switch just inside the door and you had to insert a room key card into the slot to turn the electricity on. Made sense - when you left, you turned the electricity off so it saved energy. And the refrigerator was not on that switch.

We had to pay a fee of 10 euros for internet access for the week.

There was no air conditioning in the units, but effective ceiling fans. The cool sea breezes made that not a problem, but of course you turned off the fans when you left the room and took the key card.

The housing units had clothes washers, but no dryers, so we had to use what they called the "clothes horse" on the little balcony to dry our clothes. Since the humidity was low and we had a breeze, that worked ok.

We looked out toward the parking lot provided, which was a big advantage since parking on the street in this crowded area was difficult.
| | |
| --- | --- |
| | Our balcony looked roughly west across the parking lot, we enjoyed a couple of nice sunsets. At lower left is a glimpse of the sea, but it's hard to see in the photo. |
Index
2017