Sports Awards, Pearl River High
Tuesday, May 2
| | |
| --- | --- |
| | Jordan's first award was the Cross Country letter from Coach Mike Grush. She also received letters in Track and Soccer. |
| | |
| --- | --- |
| This was a second Cross Country award. | |
Athletic Director Courtney Labordette presenting Senior Award for Cross Country to Jordan.
It is now Darla's time to present awards to her soccer team. She is the head soccer coach this year, assisted by the former coach Renee Pando and by her brother, Jeff Moyle.
Darla brings the whole girls soccer team to the front for awards. At left are Kylea Milton, Jordan Nave and Bethany Moyle. At the right end is Lindsey Moyle. Renee Pando helps to hand out their soccer letter certificates.
| | |
| --- | --- |
| | Lindsey Moyle receives the award for outstanding midfielder. |
Jordan, carrying her soccer letter certificate, comes up for her her Senior Appreciation Plaque.

She also received the Team MVP trophy for Soccer.
| | |
| --- | --- |
| | Bethany Moyle comes up to get her award from her father, Jeff Moyle. This plaque honored her as a 2nd Team All District Player in Girls Soccer. |
| | |
| --- | --- |
| Jeff Moyle presents to Jordan a plaque honoring her as the Most Athletic Female for 2017. | |
| | |
| --- | --- |
| | Kylea Milton and Jordan were honored as the team captains for the girls soccer team and received trophies denoting that. |
| | |
| --- | --- |
| | Coach Darla honors her brother, Jeff Moyle, for his support in assisting with the coaching. |
Her comments in honoring him were very appropriate and included the fact that both of them played soccer at Pearl River High School when they were students, and both had played soccer at the University of Southern Mississippi with soccer scholarships. Pretty neat that they are still working together.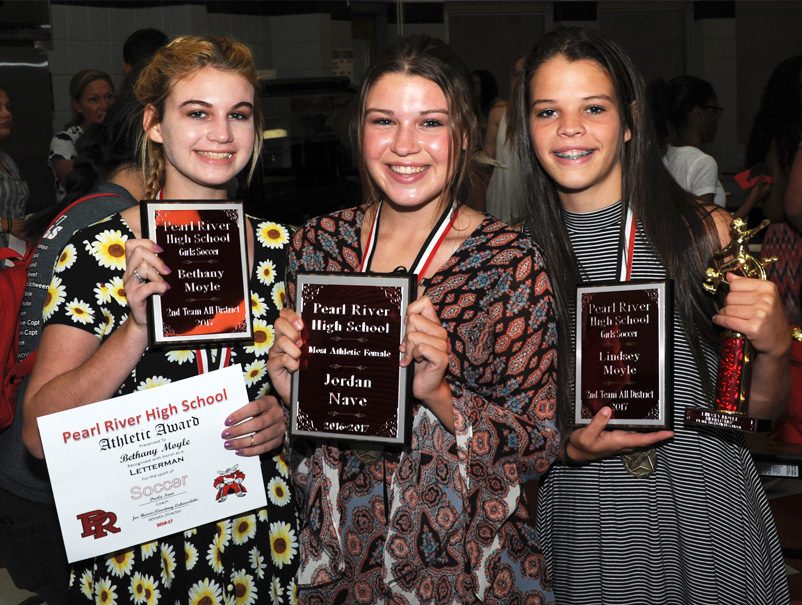 The cousins midfield trio of Bethany Moyle, Jordan Nave and Lindsey Moyle
Both Bethany and Lindsey received the 2nd Team All District Team plaques and Jordan received the senior plaque for Most Athletic Female. Lindsey also received the trophy for Midfield Most Valuable Player. Jordan received 1st Team All District in soccer and the Team Most Valuable Player trophy.
Index
2017