From Edinburgh home to Beaumaris
September 9-10, 1967
We left Edinburgh and headed along the east coast on the A1. We traveled through rolling green agricultural land with a number of good views of the sea. We drove out to Holy Island, the place where Christianity was first introduced into Britain. The causeway to the island is very interesting in the fact that most of it is covered with water at high tide. It is unfordable 2 hours before and 3-1/4 hours after high tide. We went over at low tide when we were surrounded by a vast sand flat. It was a good road but was covered with seaweed and shells. Besides the ancient church and cathedral was a very interesting castle. Lindisfarne Castle is a small structure picturesquely placed on a rocky crag. I had seen a rather perverse movie, Cul de Sac, which was filmed on the causeway and at the castle and I immediately recognized the environment.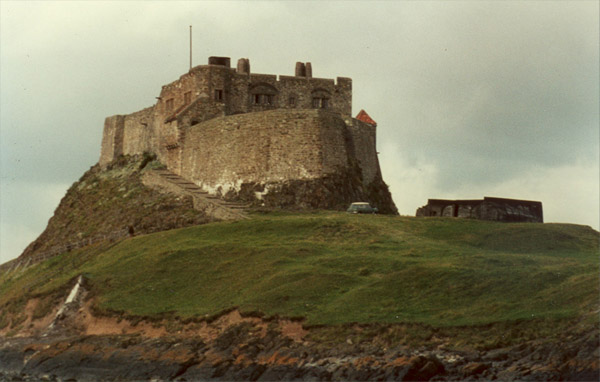 Lindisfarne Castle on Holy Island
We drove out to Bamburgh to see the tremendous castle there. Here and at Alnwick we saw two of the very large castles that played a part in the border wars.
Passing through the large industrial town of Newcastle-on-Tyne we continued on to Durham.
Durham Cathedral and Castle

Entering the outskirts of Durham we saw what appeared to be one fantastically large building on top of a hill. It turned out to be several buildings including the castle and the cathedral and some closely spaced small buildings in between. They sit on a very strategic point on a high hill in a sharp bend of the river so that they are protected on three sides by the river. The cathedral is one of the largest we've seen but not one of the most beautiful inside. It dis have the most impressive organ that I have seen - there were large ornately painted wooden pipes on both sides of the choir - we certainly would have liked to have heard it. I climbed the tower to get a better view of the castle. Aferward we walked along the river and got some good views of the cathedral reflected in the smoothly flowing River Wear.

Buildings reflecting in the smooth River Wear
After supper we proceeded on to Newton Aycliffe to the Jones' where we spent the night. We had an interesting discussion with Grif Jones about his work as Head Warden of Aycliffe School, a type of reform school which seems to be quite progressive in its approach to the problems of delinquents.
September 10
We drove the 220 miles back to Beaumaris, bringing Mrs Parry home from a two week visit at her daughter's. Total trip 1400 miles.