Climbing Snowdon
March 31, 1967
I arose on this beautiful clear morning and made the circle around the back of Beaumaris Castle. When I saw the clear air and the bright snow on the peaks, I decided not to go to work! I called in to take the day off and we headed off for a long-anticipated climb up Snowdon. Snowdon is the hightest peak in England and Wales at 3560 feet. That doesn't sound high, but it is only 15 miles from the sea and starts from essentially sea level. The planned route was to go to Llanberis and follow the cog railway to the top. During the summer months a cog train traveles to the top for sightseers.
These plans were being made while watching contented cows graze in the foreground of a castle built in 1275.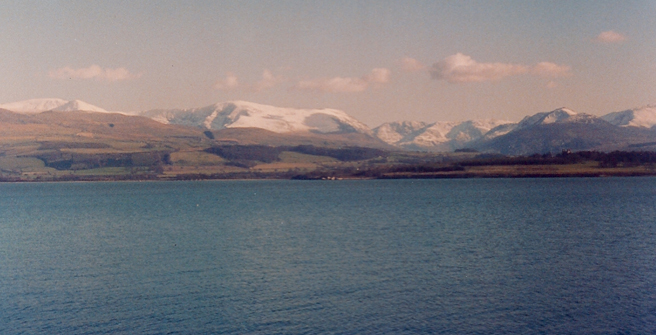 The view of the clear sky and snowcaps over the Menai Strait as we drove along the Anglesey coast toware Bangor reinforced our decision that this was to be the day! We drove to Llanberis and started up the cograil tracks and soon encountered snow.
Brenda goes on ahead as I am always stopping to take pictures.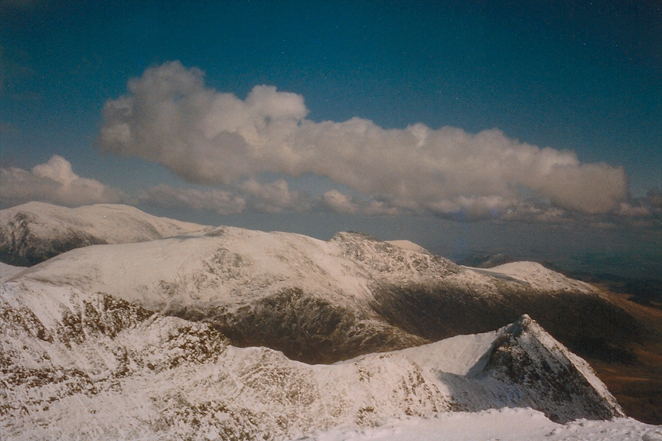 Our climb up the railway gave us good views of the surrounding mountains, including the incredibly narrow ridge of Crib Goch, shown to the lower right fo the photo above. Later we climbed over that narrow ridge, which is just wide enough for a footpath and drops steeply on each side. Geologically it is called an arete, a narrow ridge caused by glacial action. The whole area shown in the map below is a fascinating area for exploring.
This group came up the mountain from the other side, apparently from the area of Llyn Cwellyn, the lake which can be seen in the background.
Besides being very cold, the wind was blowing very hard, as evidenced by the windblown ice formations. I think the word for such formations is "rime". They were fascinating to me, since I had never seen anything like them.





All of North Wales was close enough to the sea to be in easy flying range for the herring gulls, and they were always eager for a handout, even on the top of Mt. Snowdon.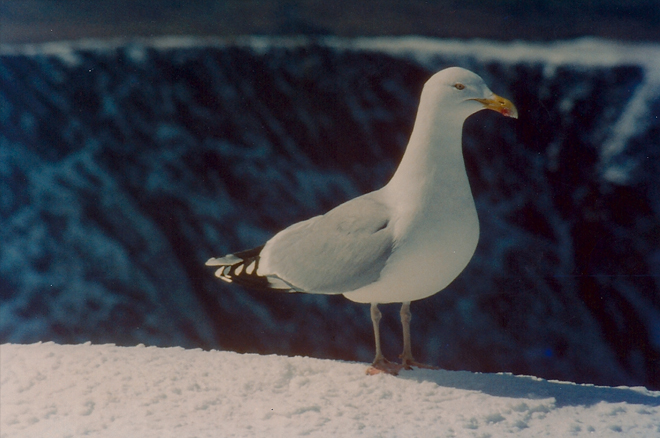 When we reached the peak we found that a lot of people were there before us. It didn't surprise us, because if you had any climbing at all in your blood, you would be out on this beautiful day!
We had a clear view of the sea to the west and a view of all the surrounding mountains. Our climb up and down took about five hours.