Farewell to North Wales
November - December, 1967

Visit to Mrs Lightfoot's Summer Cottage
The above photo was shot on a visit with Mollie to Mrs. Lightfoot's summer cottage on Anglesey. We had enjoyed out visits to the home of Mollie Tarbuck, just up Church Street from our flat in Beaumaris. She had made the inside very nice and modern, but by the town rules in this historic place, she couldn't change the outside appearance of the house. Rod is holding Grip, Mollie's beloved highland terrier. We made our farewells to Mollie, who had been a great friend and had guided us on our trip to the English Lake District.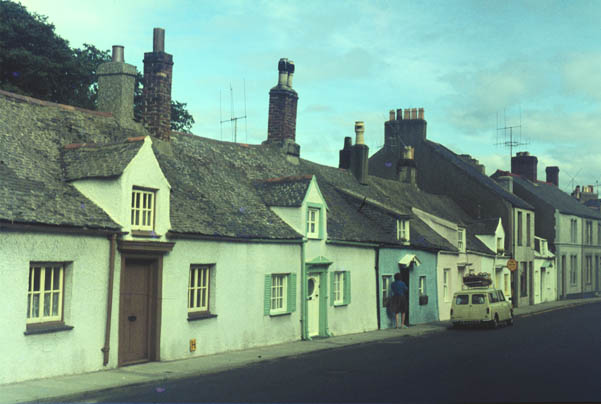 Brenda walks along Church Street near Mollie's house, but I don't remember which doorway was her's. But these were typical outside appearances of these houses, and they couldn't be changed. Mollie told us her house was built in 1540!
On November 21 we had a slide showing party for all the research students with wives and girlfriends, plus Michio and Yuko Takami and Otis Stiefvater. Brenda had fixed apple and mince tarts, chip n dip and little sandwiches which everyone seemed to enjoy very much. They brought us a very nice sheepskin as a going-away present. I showed a survey program of the slides I had picked out to show at home. With about 15 people in our living room, we had used every available sitting place including the kitchen chairs and the stool from the bathroom.
Brenda visits with Mrs Parry, who owned "Old Bank House" where our third floor flat was. She was a very elegant and formal English lady. She was very kind to us, but we were always careful in our interactions with her because of her reserve. Her living space was the first two floors, and we had to go through the first floor to get to the stairs leading to our third floor flat. We wanted to honor her pride and meticulous care in keeping her house spotless.

We didn't interact with her a great deal, but on this occasion when we were preparing to leave, she was gracious to show and tell about some of the furnishings of the house.

These pictures were shot about the first of December, when we were about to leave Beaumaris.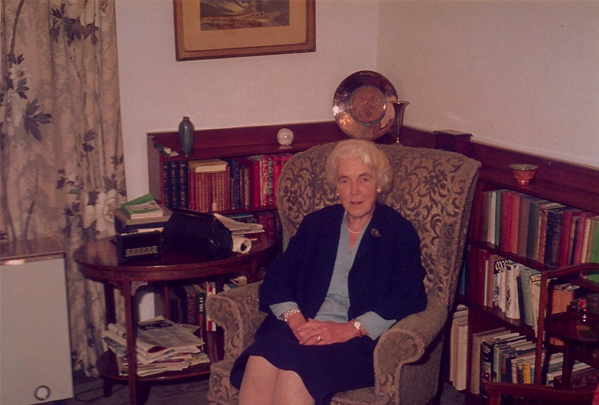 This is the exterior of Old Bank House on Church Street in Beaumaris. Other views of our apartment and our experience of living and shopping in Beaumaris tell a bit more about our experience there.

On November 25, after weeks of planning and two hectic days of packing, we put all the stuff we could spare in our two trunks, two of the suitcases, and two "tea chests" which we had bought for 5 shillings each. Harold Jones and Keith Bolton came by to help us get all this down three flights of narrow stairs and into Professor Sheridan's "Dormobile" Camper. We took them to the station in Bangor to be sent to the Bremen at Southampton.
In the evening we went for dinner to Gayle Mitchell's flat, along with Jerry and Jenny Alpaugh, all Americans staying in the Bangor area. Also visiting were two other Americans, Jim and Joan Dudley, who were over from Ireland where is writing a Ph D thesis on a period of Irish history. We had a nice dinner and stayed up until about 1:30 am talking about the welfare state system in Britain and our capitalist, free enterprise system and the problems of each.
John and Mary Sheridan and their two sons Hugh and Clive at a farewell party given for us on November 26 (at 11am on Sunday morning). The invitations to everyone said "come for drinks", which is typical language there, but seemed a bit strange to give a "come for drinks" party for two teetotalers. Nevertheless we were greatly appreciative of the sentiment and everyone seemed to enjoy themselves.
Besides the microwave group there were Mrs Parry, Mollie Tarbuck, Puya Mair Guzder, Sheila and Rob Newton, and our butcher, Mr. Stanley and his wife.
We were presented with an antique map of Anglesey by the Sheridans and the group, and Sheila Newton had painted a picture of Church Street which she presented to us. That picture still hangs in our stairwell.
We much appreciated the hospitality of the Sheridans and all the effort they went to in finding us the flat in which we lived and generally being helpful and friendly to us throughout that year.
Above are Harry Jones and Alan Wardley with Sheila Newton. At left are Graham and Valerie Williams. They were research students in the Chemistry Department of the University College of North Wales under the direction of Professor Sheridan. They were my colleagues during the year and we had a lot of great times together.

In the photo above, you can see out the window to the Menai Strait which separated the island of Anglesey from the mainland of North Wales. The Sheridans had a very nice modern house just south of Beaumaris.
John and Janet Griffiths, Ellie and Keith Bolton. John and Keith round out the group of six chemistry research students with whom I worked at the University College of North Wales in Bangor.
November 27. After getting the bulk of our luggage off we were left with little to do during the last week. I worked frantically to finish my work at the University, but there was little to do in preparation for the trip. We thought we had plenty of luggage from for the remainder of our dlothes, but the situation changed during the week. Mollie finished my aran wool pullover and brought it to me on Tuesday. Marjorie gave us a lovely crocheted shawl made by a Welsh lady and a cheese board made by a man next door to her. Mollie also gave us a lobster pot float and an old copper tea kettle. We bought a Welsh wool blanket. We wound up filling all our luggage plus two shopping bags. Despite all our preparation, the last two days were very hectic and rushed.
December 1. After closing out our British Bank account and doing some final things in Beaumaris, I went in to the University to finish things there. Brenda went to Bangor to wash clothes, to have lunch with Purmaya Guzder, and to have her hair fixed. I finally finished my work and made it home about 5pm. We barely finished packing in time to go with Professor Sheridan and Mary to the Chemistry Society Annual Dinner & Dance at the Trearddur Bay Hotel near Holyhead. We had a very nice dinner and a good sendoff. It was an excellent opportunity to say goodbye to everyone. Before we left to catch the train, they got us out in the center of the dance floor and gathered around to sing Auld Lang Syne. Otto Stiefvater took us to the railway station in his Mercedes. Professor and Mary Sheridan, Michio & Yuko Takami, Harold Jones and Allison McNeil, Keith Bolton and Ellie, John and Janice Griffith, Graham and Valerie Williams came along to the station to see us off. Allen Wardley didn't come to the banquet but he rode his motorcycle 25 miles to Holyhead to see us off. They all piled on the train and stayed until time to leave (1:10am).
We had a train compartment to ourselves so we were able to get a bit of sleep on the way to London. We arrived at Euston Station about 6:15am.
December 2 We stuffed our luggage in a locker at Euston Station and took the Underground to Oxford Circle. We got some breakfast and then shopped until about noon. We then went to the Langley Hotel, the same one we had taken on our first night in Britain. We had planned to go to Portobello Road aft lunch but we had bought all we could possibly carry and besides, we were just too tired to fight it any more. We slept most of the afternoon and then after supper we went up to Piccadilly Circus to brave the terrific Saturday night crowds. We wanted to see a movie but the ones we wanted to see were full up. We wandered around a bit and then went to a cartoon show and then to the hotel for bed.
December 3 We were a bit sore from manhandling all our luggage so we called a taxi to take us to Waterloo Station. Leaving our luggage there, we went to see the changing of the horse guard and the changing of the guard at Buckingham Palace. We spent some time in St. James Park watching the birds and then walked up to Trafalgar Square. We had lunch near Trafalgar Square and, since we had spare time, we walked to Waterloo Station by Big Ben and across the Westminster Bridge. Our train left at 2:30 and we reached Southampton about 3:40pm. We were rather lucky to have traveled on Sunday since rail strikes affecting the southern region began at midnight on Sunday. We settled in a B&B and walked about Southampton a bit.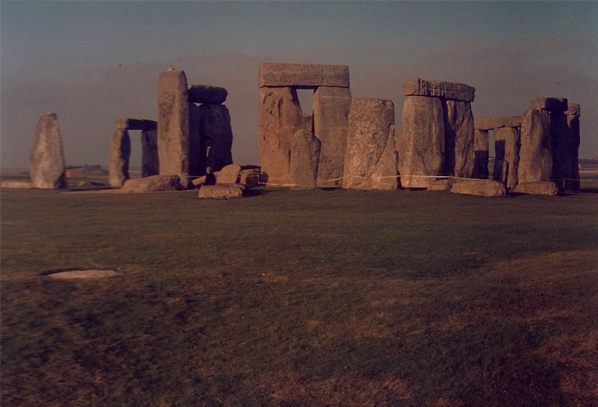 | | |
| --- | --- |
| December 4 We were keen on seeing Stonehenge, but it was past the tourist season, so there were no excursions to Stonehenge. We rode the bus for about 2 hours to the nearest point we could get and walked the rest of the way to Stonehenge. That was about 4 miles and took us about an hour and a half. The weather was nice and sunny, so it was not too bad. Stonehenge was deserted, so we had it completely to ourselves. We walked around it and had a good look at everything and then walked back to catch the bus back to Southhampton. | |
Rod has a look at the German Cruiseship, the S. S. Bremen, on which we had booked passage back to New York.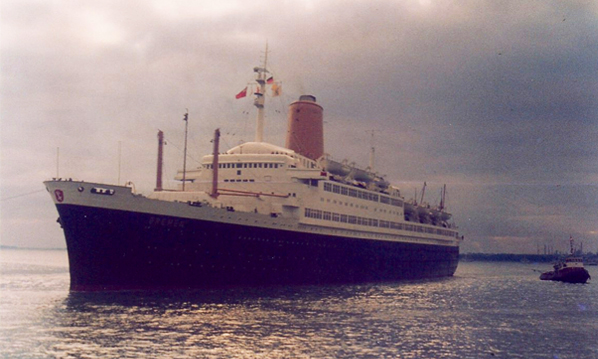 December 5 We reached the Southampton docks about 9am and got to watch the tremendous liner Bremen coming down the river and docking. We watched the tugs maneuvering the Bremen in to the dock at Southampton. The docks are always fascinating.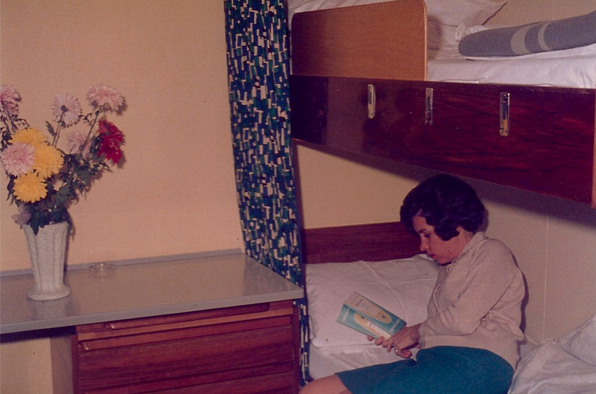 We boarded the Bremen and settled into our cabin, which was small but well-designed. It was so small I had to use a reflection in a mirror to take the shot of Brenda at left.

In our cabin we found a card from Mollie and a lovely arrangement of mums from Sir Leonard and Lady Owen. Sir Leonard Owen had been knighted in 1957 for his role in the development of the British nuclear power industry. We visited with him in his home in Menai Bridge one evening and enjoyed conversation with them, but were really surprised by this gracious gesture upon our departure.

Rod watched them loading luggage for hours. We finally departed from Southampton about 4pm. We had been informed that the ship was going straight to New York, but we learned that we were going across the Channel to Cherbourg, France and then to Halifax, Nova Scotia. We would reach New York on December 12, a day later than we expected.
Rod didn't have much maneuvering room in the small top bunk, but it worked well and we very much enjoyed the transatlantic trip back to New York.
On that first night, we had a very nice dinner and went to the movie "Hour of the Gun". When we got out of the movie we realized that we were no longer moving. The ship had dropped anchor off Cherbourg and a smaller ship, about the size of the cross-channel ferries, was moving in alongside. It was a big ship but was dwarfed in size by the monstrous Bremen. It tied up alongside, put gangways across and transferred passengers and luggage. Also a large amount of foodstuff (vegetables, etc.) were placed onboard.
December 6 Heading westward across the Atlantic, we began to settle into the leisurely, luxurious schedule of a sea voyage. The fittings of the Bremen are even more comfortable thatn the United States. Breakfast at 8, lunch at noon, dinner at 6:30 with coffee at 4pm and sandwiches at 10:30pm. Not quite so many movies as the United States - only one a day and half are in German. More musical features.
| | |
| --- | --- |
| | Rod enjoyed going up on the bridge. They had classic style controls. |
December 7 Calm sea - height of luxury. Did nothing but eat, sleep and read. Brenda knitted. We made a short visit to the "bridge" to see the navigation equipment, radar, etc. Saw the movie "Up the Down Staircase" starring Sandy Dennis.
December 9 We woke up with more than the usual rocking. The waves were piling up against the side of the ship. At breakfast the motion increased and a couple of cups slid off one table with a tremendous crash. By the time we finished breakfast the sea was really spectacular. Several waves broke over the bow of the ship which must have been 30 or so feet above the water even when it dipped. As an interlude in an otherwise smooth voyage, it was quite enjoyable. The side of the deck where the waves were piling up was roped off, and special ropes were put up on the other side to help people walk.
December 10 For the last two days the air temperature was quite comfortable; we were moving through the Gulf Stream. Last night the air got quite cold as we moved out of the Stream.
| | |
| --- | --- |
| | We pulled into Halifax, Nova Scotia, about 1pm. It was quite cold and snowing lightly. We could see the residential area of Halifax in the distance. It consisted of wood frame houses apparently painted in every color of the rainbow. We spent about eight hours in port and could have gotten off the ship, but didn't think there was anything worth seeing. |
December 12 It was only a 26 hour journey at full speed from Halifax to New York and we could have been in New York on Monday night, the 11th, but the ship couldn't dock until 8am on the 12th because of the union regulations in New York. The ship therefore ran slowly and we entered under the Narrows Bridge about 7am on the 12th. It was quite foggy and we could barely see the Statue of Liberty and couldn't see the skyline at all. I'm sure this was very disappointing to those who were coming into New York for the first time.
We went through the passport check, etc. on the ship and got off the ship at about 9:30am. We went to our luggage which was gathered under our initial and waited there until about 11am for a customs inspector. Just about the time we had persuaded one to come over, Mike Stuart walked in. We had sent a telegram saying we would dock at noon and they had just arrived from Boston. We had been afraid that they had been waiting outside since 8 but everything worked out pretty well. We didn't expect him to get inside the customs shed, but he had shown his FBI credentials and walked right in. He introduced himself to the head customs official who asked him if he was taking us in. He said no, that we were just good friends. He met our customs checker who was thereafter very friendly and talkative. We had $500 worth of stuff (i.e., things we had paid $500 for) even with a low estimate on my film. Of that $200 was clothing, which he valued at $50, about $75 in gifts for others which he reduced to $30 because most of them were items under $10 apiece. He admitted $40 in books free and reduced the other things so that the total valuation was $180 so that we didn't have to pay any duty. All of the items were for personal use and they are apparently fairly generous in such cases, but we are confident that Mike's influence helped. He made a quick inspection of all the luggage. He said the law required him to open every piece. He fulfilled only the letter of the law in the case of our nailed-up boxes - he pried open one edge and peeked in then nailed them up again. We saw other people's clothes being dragged out and them being questioned in detail about binoculars, etc. and again felt very fortunate.
We had a picnic lunch with Mike and Frankie and then drove to Kennedy Airport to check our luggage. We went to Macy's and looked all around and then drove around New York looking at the Christmas lights. We went through Battery Tunnel and had dinner at the Holiday Inn and then made a quick trip to Kennedy Airport, reaching there just at 8:40, the time the plane was supposed to be loading to take off at 9pm. We had a smooth flight on a Delta DC-8 to Atlanta, making it there about 11:30pm. We were met by Brenda's Mother, Bonnie, Wesley, and Harvey and Erselle Driskell.