Christmas in Arkansas, 1968
Jeff with Aunt Pearl on first Christmas
We visited Rod's home in Newport, Arkansas for Christmas. This is Jeff's first Christmas at seven months old.

Pearl Bunch is Rod's father's sister and played a major role in raising him. She taught him in the fourth grade at school as well. The picture is in Aunt Pearl's living room. Aunt Pearl is 83 in this photo.

December 25, 1968.
Jeff parked in the middle of Aunt Pearl's long sofa in her living room. This was a special room at Aunt Pearl's when we were growing up - she always kept it nice, and the furniture seemed very elegant to us.
Rod, Jeff and Brenda on Aunt Pearl's couch.
Naomi Nave and children. Dorothy, Wanda and Edgar on couch with her, Philippe and Rodney in front.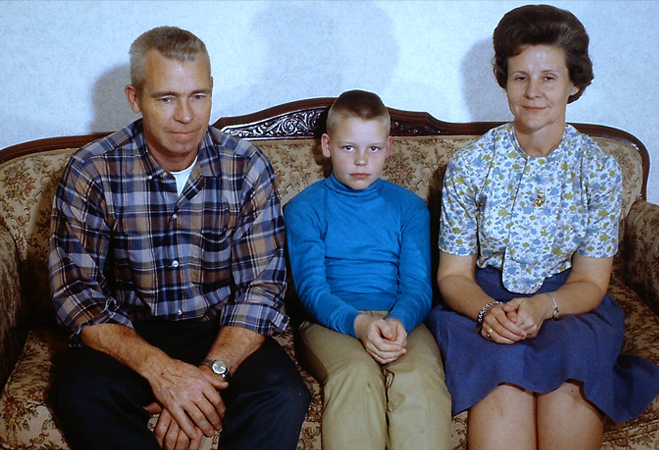 Edgar, Leland and Sue
Dorothy, Shirley, Jim, Suzanne
Mary Sue, Dave and Philippe.
Charles and Wanda and their live bunch. Becky, Mary and Bobby Charles on couch, Danny and Stephen in front.
The Hobsons were home on furlough after having served as missionaries in Colombia, and would be heading to Paraguay in 1969.
Jeff's first time on a horse, courtesy of Uncle Philippe.
Denise was married to Roger Dale Boykin on December 28 by Judge Baber in Heflin, Alabama.