Bent Tree Flowers of April
1977
Bloodroot

One of the first flowers, the bloodroot flower pops right out of the dry leaves. The bloodroot is one of my favorites - it's root is really blood red, and was used for red dye by native Americans according to Duncan and Foote. April 2.

At the bottom of this picture you can see the leaves of a rue anemone which closely follows the early bloodroot.
Rue Anemone

The rue anemone is one of the first flowers to bloom in spring at Bent Tree. It blooms in profusion in April to beat the canopy of leaves from the trees. April 8.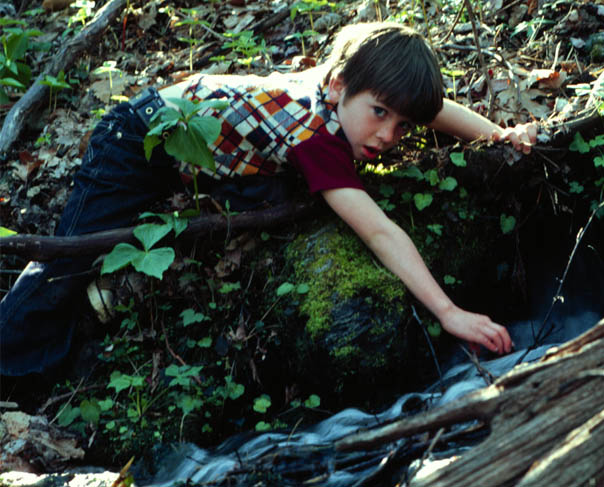 Mark reaches into Buckskull Spring, which is off to the left as you go down Buckskull Court from our house. We loved tromping around in the woods in the early spring as the flowers started to come out. At left below Mark are some trillium plants, but they haven't bloomed yet. April 8.
Nodding Trillium
This is a trillium variety that I saw only occasionally. I take it to be a nodding trillium. I found this one down on the logging road off of Buckskull Court on April 17.
Green dogwood blossom near the Bent Tree house. April 8.
Sessile Trillium
This is a the most common variety of trillium in our area at Bent Tree. It's dark, wine-colored flower is distinctive. April 8.
| | |
| --- | --- |
| | Mark is sitting by the stream off the logging road to the right of Buckskull Court. We found the above trillium right beside this stream. |
| | |
| --- | --- |
| Jeff sitting be stream off the logging road down Buckskull Court. He is holding a sessile trillium. | |
A natural setting for the sessile trillium.
White Violet

This flower was often found along this stream. Its buds were violet in color, but the bloom turned white as it opened. April 9.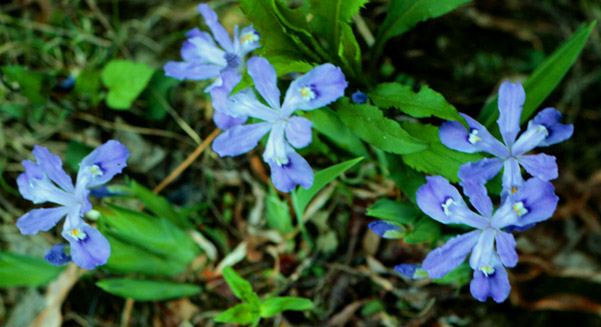 Wild Iris
On Buckskull Court just below house at Bent Tree. Available light shot. April 16.
| | |
| --- | --- |
| | Jeff and Mark were usually willing to traipse around the woods with me looking for wildflowers and other interesting small stuff. April 16. |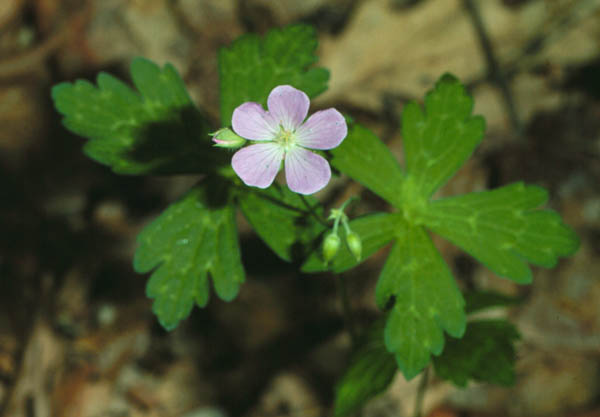 Wild Geranium
This flower is also called Cranesbill by Duncan and Foote. I found this one down on the logging road off of Buckskull Court on April 17.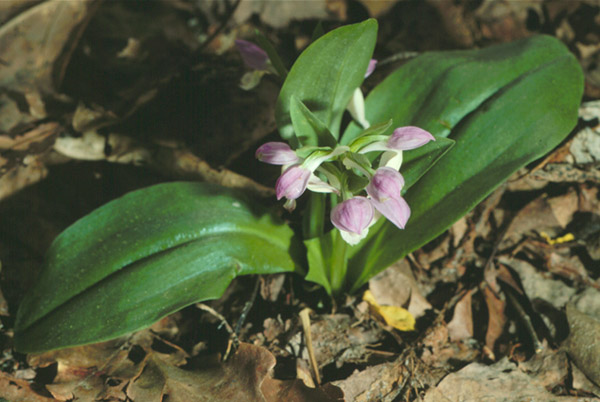 Showy Orchid
This is a specimen of one of Georgia's few orchids. It is described by Duncan & Foote, p270. I have only seen it in one place, along this logging road. April 17.
Mandrake or Mayapple
Moving from the rare to the commonplace, this mandrake plant sometimes carpets whole areas in the forest of Bent Tree. It is not so common to see its flower, shown here. It lasts a short time and is hidden under the leaves. Also shown in this shot under the umbrella of the mandrake are rue anemones and a yellow bellwort.