Trip to Lee's Inn, Highland, NC with Welcome Class
July 28-29, 1979
This group of the Welcome Class is stopped for breakfast on the way to Highland, North Carolina. From left to right Dave Smith, Jesse Payne in back, Rod Nave, Audrey Smith, Betty and Bill Willoughby in back, and Lela Glick and Sara Payne in front. Brenda and I had begun to teach this couples Sunday school class a short time before this. We enjoyed celebrating this trip with them.
| | |
| --- | --- |
| | Rod and Brenda at our stop at Tallulah Gorge on the way to North Carolina. Doug Glick took the picture. |
Our group at Tallulah Gorge. Dave and Audrey Smith, Sara and Jesse Payne, Lela Glick, Rod and Brenda Nave, Betty and Bill Willoughby.
| | |
| --- | --- |
| We took another shot to get Doug and Lela Glick together in the photo. | |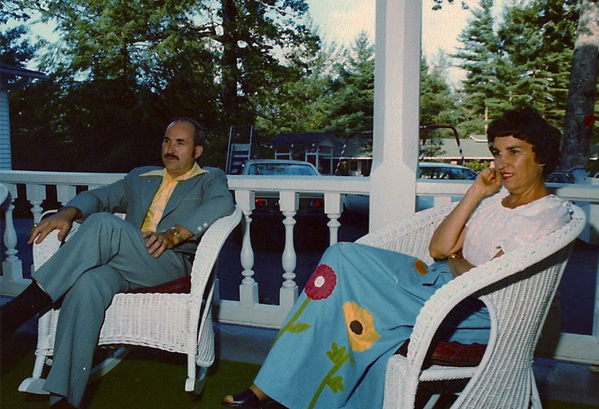 Bill Willoughby and Brenda are settled in on the comfortable porch of Lee's Inn in Highland.

It was indeed a comfortable and relaxing place.
The group gathered on the nice stairway of Lee's Inn. Front row: Jake and Nell Lee, Rod, Edith and C.E. Barber. 2nd row: Brenda, Lela Glick, Betty Willoughby, Sara Payne. 3rd row: Audrey Smith, Doug Glick, Jesse Payne. In back, Dave Smith.
| | |
| --- | --- |
| Brenda by a pond on the property. It had a beautiful collection of water lilies. | |
| | |
| --- | --- |
| | Rod was so enamored with the beautiful water lilies that he took off his shoes and waded out to take closeup pictures of them. Those closeups are still on our bedroom wall. |
Index
1979