Hawaii Trip on our 25th Anniversary
June 7-14, 1987
| | |
| --- | --- |
| | Brenda and Rod launched out over the blue Pacific to Hawaii. This time it was on a Lockheed L-1011, a great advance over the DC6B prop plane that Rod rode on his previous trip in 1959. |
This is an active map. Click on one of the four islands of destination.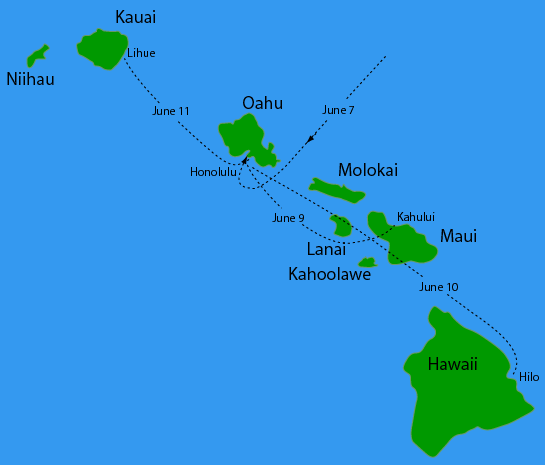 Oahu

Landing in Honolulu, we were pleased to receive the traditional lei greeting and were soon at our room at the Pleasant Hawaiian Hotel near Wakiki. We had a nice overlook of a canal and part of the city.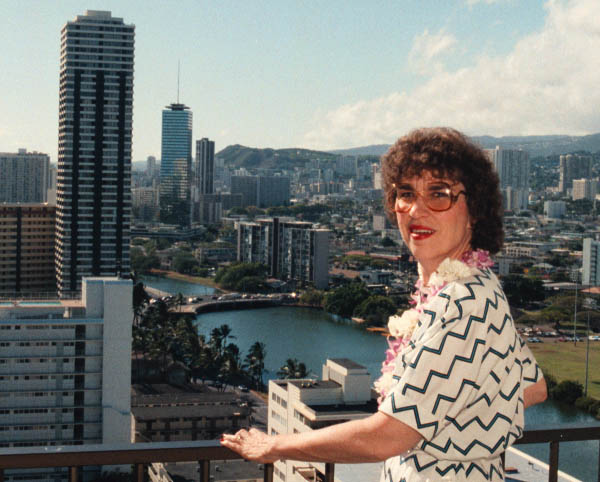 | | |
| --- | --- |
| It was not far from Wakiki Beach, so Brenda got to wade on the famous beach. | |
| | |
| --- | --- |
| | I was anxious for Brenda to see Hanauma Bay, which is not far from Honolulu. The beach was just as picturesque as I remembered it from nearly thirty years ago. We snorkeled in the clear shallow water to see the colorful fish. |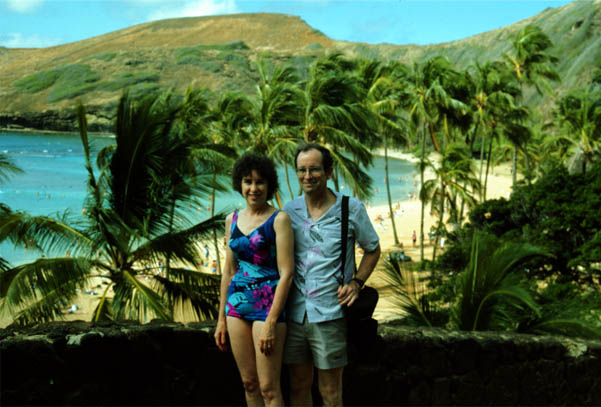 This view shows the nature of the shallow reef. At bottom right you can see the people who have waded out to the sandy gap in the reef. You could see a lot of colorful tropical fish in the clear, shallow water.
| | |
| --- | --- |
| | We enjoyed these friendly red-headed birds at Hanauma. |
| | |
| --- | --- |
| There were also some very attractive doves on the wall leading to the beach. | |
| | |
| --- | --- |
| | Down close to the beach level at Hanauma, you could see the bowl shape of this opened-up volcanic cone. |
Another feature I wanted to show Brenda was the blow hole through the porous volcanic rock. We found the place where I had seen it years ago, but apparently the tide was not right to produce the dramatic plume through the rock.
Pineapple fields stretched into the distance from this vantage point along Hwy 750, Kunia Road. We could see large equipment working the fields in the distance and lots of pineapples on the plants close to us.
| | |
| --- | --- |
| There were lots of pineapples to look at right by the road. This was about our last stop as we headed back to Honolulu, completing our excursion on the island of Oahu. | |
Index
1987