The Oregon Coast
August 23, 1989
| | |
| --- | --- |
| Mark and I climbed out early and had breakfast in Roseburg at about 6:30. We headed north on I5, cut across NW from Sutherlin on 138 and then proceeded west on 38 to the coast at Reedsport. This last stretch was a pleasant drive along the widening and slowing Umpqua River. | |
This is a southward view along the rugged Oregon coast from near Heceta Head.
Two young asian girls on the edge of Devil's Churn, a cut in the rocky coast where waves rush in and create a churning turbulence.
This is an example of what happens at Devil's Churn! Shot at 1/500 sec, you can see the violence of the action.
Mark out on the black volcanic rock above the churning surf of Devil's Churn.
| | |
| --- | --- |
| Mark stands out by the churn cut, above. It was a luxurious time of driving along this dramatic coast. | |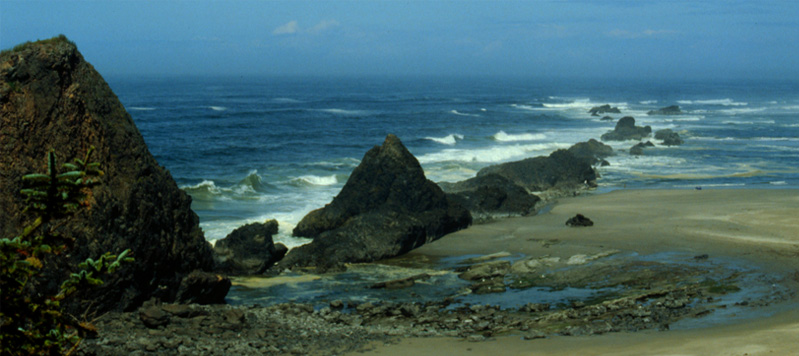 When we had arrived in Reedsport, we turned north along the Oregon coast, pausing briefly at the dunes area. The part of the coast I liked best was the stretch of steep cliffs starting at Devil's Elbow and proceeding northward a few miles.
We overshot Newport for a few miles to see Otter Crest and Devil's Punchbowl and then returned to Newport and took the slow road across to Albany.
There were a lot of steep forested hillsides along this route with lots of different examples of logging practice. There were some clear-cut hills and some cut in strips. We reached Albany again about 3:30 and had time to do our laundry and relax a bit.
Wanda fixed one of Mark's salmon for supper. He had given the other one to Bob.
I went along with Wanda to choir practice and then Mark came with Charles to prayer meeting. The prayer meeting was very worshipful and very meaningful to me. Charles led hymns and an interactive sharing of blessings. Then we had a prayer time.
I was impressed again with the spirit of community. The young couples had their children there and the youngsters seem to feel that everybody there was their family.