RAs November 1990
We went up to Bent Tree for an overnight and hike. Mark helps serve a hamburger supper to the boys. Jeremy Beasley, Jeffery Stephens, Daniel Payne.
We build a campfire out beside the house. The boys always like a campfire. L-R:Larry Stephens, Joshua Golden, David Payne, John Streefkerk, Jeffery Stephens, Ryan Elcombe, Daniel Payne, Jeremy Beasley.
Boys at the top of Buckskull Court, at the bottom of our driveway. We are about to hike up Big Stump Mountain. Jeremy Beasley, Daniel Payne, Joshua Golden, Jeffrey Stephens, Ryan Elcombe in front.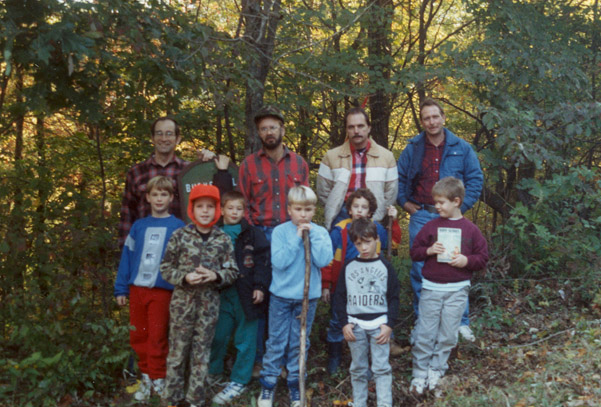 In back Rod, David Payne, Larry Stephens, Brent Jones. Boys in front: Jeremy Beasley, Joshua Golden, Daniel Payne, Ryan Elcombe, Jeffrey Stephens, John Streefkerk, Scott Bailey.
Joshua Golden has a snack at our water stop on the way up the mountain. Then we head on up the ridge toward the tower at the top of Big Stump Mountain.
We stop at the rock ridge that runs around the mountain like a belt. We have come up the steepest part, and the slope is more gentle past this point. The boys liked playing on the rocks.
| | |
| --- | --- |
| We encouraged the boys to explore, and Joshua was proud of this large burl he had found on a tree. | |
We climbed to the top of Big Stump Mountain and then came back down to the house. We went to the beach for lunch before returning home.