Flight Over Denali
August 29, 1991
Having flown over the Muldrow Glacier, we now approached the mighty mountain.
| | |
| --- | --- |
| | At the top of the Muldrow Glacier I recognized the sharp dog-legged ridge shown above because it is one of the most disinctive things about the mountain when you view it from the Denali Road. |
The Mountain! The High One - Denali!
The peak! I was so preoccupied with looking at the approach mountains way below our 24000 ft altitude that I was startled to look over the plane wing ahead of me and see the peak! It looked like the wingtip was going to hit it!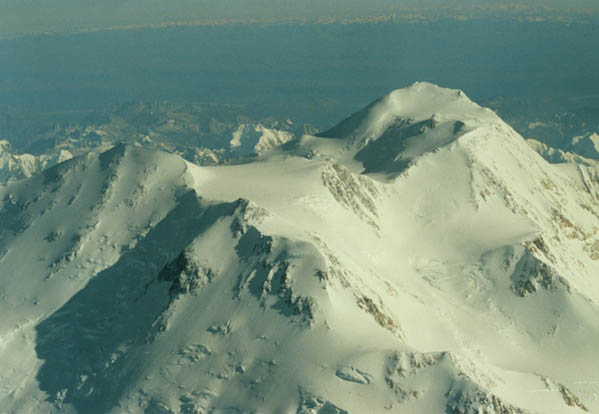 Moving past the main peak.
Taking my eyes off the main peak for a moment, this is a view back northward from the direction we had come. It shows the Muldrow Glacier and its moraine beyond it.
Looking below the plane to the West Buttress area of Denali. I was fascinated by the deep snow and the crevasse structure of the glacier.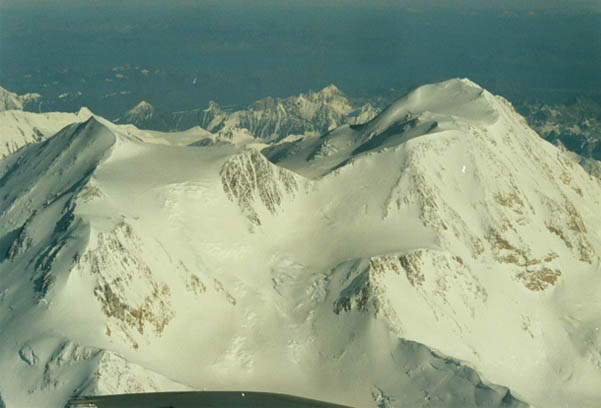 Looking back on the peak, gleaming in the afternoon sun. The pilot had flown a curved path around the mountain to give us these outstanding views, for which we were certainly grateful. In fact, a straight line to Anchorage from Fairbanks would have taken us east of the mountain so that we would have been looking straight into the sun. From this gift of consideration by the pilot and the airline, we got unbelievable views of the mighty mountain.