Sea Lions on the Chiswell Islands
August 28, 1992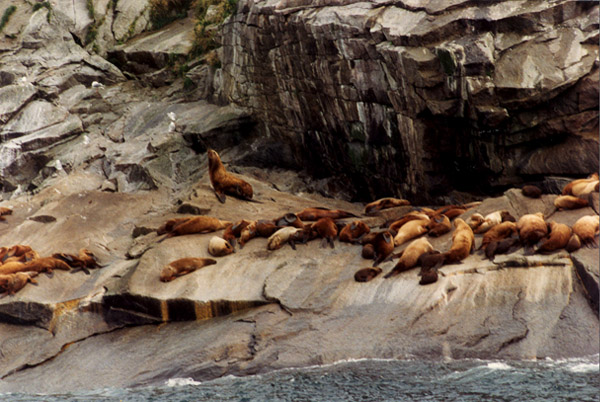 We found a sizable colony of sea lions on the small outer island of the Chiswell group.
| | |
| --- | --- |
| | This is a view back northward to the rocky islands we had passed. We were nearing the southern extreme of our tour in and approached the Chiswell Islands. |
The golden coats of these sea lions gleam in the sun. I had never thought of sea lions as being beautiful, but these were noble creatures.
Sea lions soaking up some sun on the bare rocks of the Chiswell Islands.
| | |
| --- | --- |
| Gaps between the rocky islands gave us interesting views of the distant mountainous shoreline. | |
On our way back northward toward Seward, we got nice views of the Harding ice field up on the top since the clouds had cleared away a little.
We also got another nice view of Bear Glacier as we approached Seward. It had been a memorable day - more large ocean creatures than I had seen on any day in my life.