The Storm of the Century
March 11-15, 1993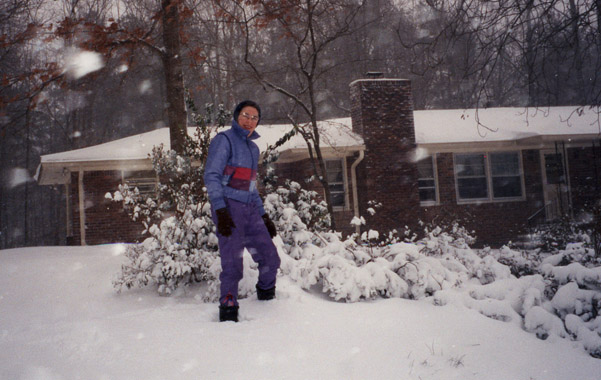 While we regarded the snowstorm in Atlanta as fun and games, we were to learn later that it was to be called the "Storm of the Century", wreaking havoc from the Keys to New York City.
| | |
| --- | --- |
| This NASA satellite image of the superstorm, taken on March 13, shows that it stretches from the Caribbean to upstate New York. You can see that Georgia is in the gap between the arms and that Atlanta was just in a light fringe of the storm. Parts of Birmingham, Alabama reported 16" of snow, and that appears consistent with a stronger part of the storm over Alabama. Even parts of the Florida panhandle got 2" of snow. | |
The above satellite image was also taken of March 13 and gives a better perspective of how it overlaid the southeastern United States. The last blizzard to have such an impact on the Southeast was the Great Blizzard of 1899 according to Wikipedia.
These details were put together because we watched a Nova special in 2008 on this storm and the great storm of 1953 in the area of the English Channel. Part of that program described the great storm surge that hit southern Florida in the 1993 storm, damaging or destroying 18,000 homes and killing at least 26 people. That 12 foot storm surge was pushed by a storm condition known as a "serial derecho", a series of squalls that push ahead along a line and give a long sustained storm. I was puzzled about the word "derecho", but shouldn't have been because I have used it a lot in my Spanish study - it is just the Spanish word for "straight ahead".
Index
1993