Spring Happenings
March-April, 1994
March 3, 1994

Brenda had planned to visit Anne Newton at Hilton Head on the weekend she broke her knee. So now Anne visited her at home during her recuperation.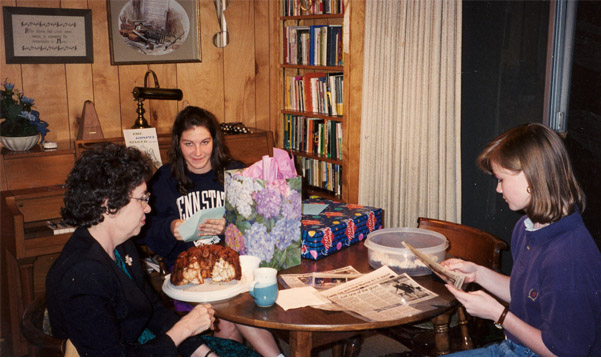 March 19. Jeff came home, bringing Darla's friend Kristin. We had a late celebration of Darla's birthday. Jeff is now at NOBTS with occasional opportunity to see Darla's parents, and Darla is up here teaching at Jonesboro High School. We were pleased that she came out to be with us.
March 28, 1994

21 freeze breaks at Bent Tree!! Another of this years nasty surprises was the freezing of the plumbing at Bent Tree. We had let a young couple go up to the house on a bitter cold February weekend and there was no gas in the propane tank to heat the house.
(Ferrellgas had failed to make good on their "keep full" contract and the back door had blown open, causing the furnace to run). The turned the water on at the road, and by the time they found out they could get no heat, they couldn't drain the water back out of the house.
| | |
| --- | --- |
| Mark and Rod spent three days repairing the 21 freeze breaks in the plumbing. One of the breaks was under the kitchen sink, requiring a cut through the basement ceiling. | |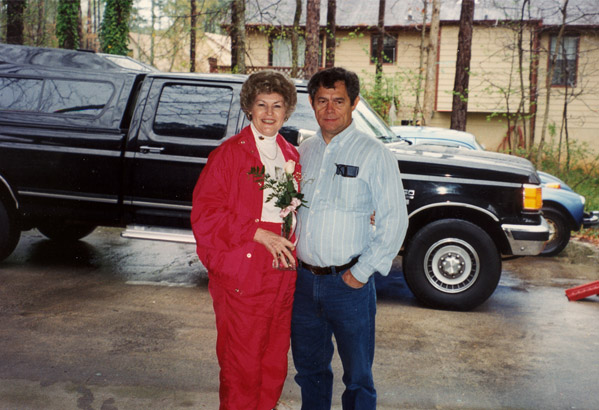 April, 1994

Bonnie and Andy come over to visit. Behind them is their new truck. As I recall, they were making plans for a big trip to the Northeast.
April 9, 1994

Mark has fixed up the carport as a painting booth and is sanding his car for painting.
| | |
| --- | --- |
| | He spend several days sanding and preparing it. He put on two coats of undercoat and five coats of finish. |
April 10, 1994

Sherry was in town and Darla also joined us for Sunday dinner. We were so pleased that she wanted to be with the family.
| | |
| --- | --- |
| | Mark with Aunt Bonnie in her wig - she showed us her "bald as an onion" head from the Taxol chemotherapy treatments. |
Index
1994