Ultraviolet Interactions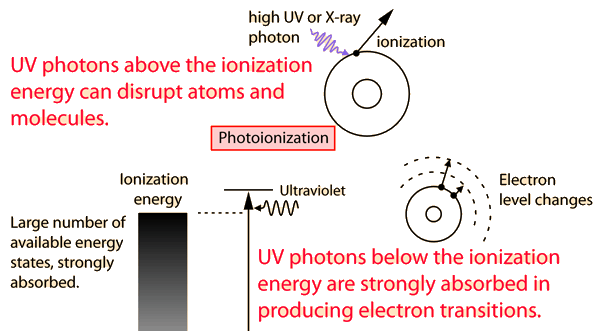 The near ultraviolet is absorbed very strongly in the surface layer of the skin by electron transitions. As you go to higher energies, the ionization energies for many molecules are reached and the more dangerous photoionization processes take place. Sunburn is primarily an effect of uv, and ionization produces the risk of skin cancer.
The ozone layer in the upper atmosphere is important for human health because it absorbs most of the harmful ultraviolet radiation from the sun before it reaches the surface. The higher frequencies in the ultraviolet are ionizing radiation and can produce harmful physiological effects ranging from sunburn to skin cancer.
Health concerns for UV exposure are mostly for the range 290-330 nm in wavelength, the range called UVB. According to Scotto, et al, the most effective biological wavelength for producing skin burns is 297 nm. Their research indicates that the biological effects increase logarithmically within the UVB range, with 330 nm being only 0.1% as effective as 297 nm for biological effects. So it is clearly important to control exposure to UVB.
Index

ReferenceScotto, et al.