Yosemite
August 7, 2004

We headed toward Yosemite before daylight and got to see the sunrise over the Sierra ridge. One intriguing thing was the shape of the isolated trees on the golden grassy hills. It reminded you of pictures we have seen of the African veldt.
On the approach to Yosemite we drove for about 40 miles through the Merced River valley, winding along the bank of the river. There was little sign of habitation except for a few old buildings like the one above plus a couple of resorts.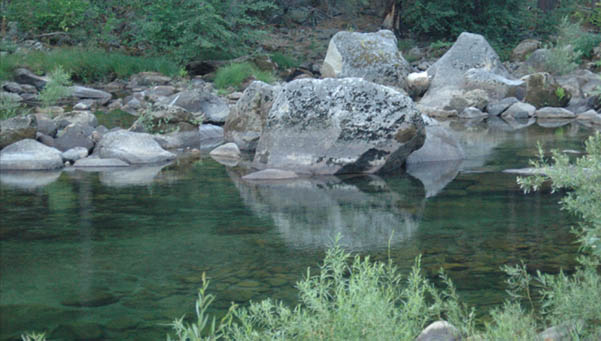 We stopped near the entrance to Yosemite National Park and enjoyed the clear beauty of the Merced River at that point.
Ashleigh checks out the rocks, but she is still a bit sleepy - it is about 7 am.

Towering granite cliffs stood above us while the river rushed away from our feet down its boulder-strewn course.

Brenda, Darla, Ashleigh and Jordon out on this beautiful morning.
This is a section of the map provided by Yosemite National Park and it shows the area we would explore on this day and the next. We had come in on the road from the bottom of the map and had turned right to descend to the Merced River where the pictures above were taken. Then we proceeded into the valley to get the views of El Capitan shown below.

We explored the valley today all the way up to Halfdome. On the next day we went upon on the Tioga Pass road to Tenaya Lake and Tuolumne Meadows.
| | |
| --- | --- |
| Driving into the Yosemite Valley, we got a wonderful early view of El Capitan in the sun. | |
| | |
| --- | --- |
| | Ashleigh and Jordan loved the opportunity to run and play in the woods. We all rejoiced in the beauty of the morning at this place. |
We finally broke loose from the spell of El Capitan and drove on toward Yosemite Village. This coyote was loping along the side of the road, and then crossed in front of us. He certainly didn't seem afraid of us, just unconcerned.
In the village store was this large stuffed bear. Ashleigh dramatizes her reaction to the bear.

Our first view of Halfdome was this silhouette in the morning sun from near Yosemite Village.