Winter Family Activities
2017
Pearl River High's Lady Rebels
Sunday, February 5
The three-cousin midfield trio
The cousins win the shoot-out!
The Lady Rebels soccer team was in the Lousiana State playoffs for their division. This was Jeff's Monday note about the game. "Darla, Jeff (Moyle), Bethany, Lindsey and Jordan got in around 2 AM last night from north Louisiana play-off game. They won in a shoot-out 3-2 after no score for the regular halves and no score in two 10 minute overtimes and two 5 minute overtimes. The 3 goals in the shoot-out were scored by Jordan, Bethany and Lindsey. They will face the #1 team in the State on Tuesday night in Tibadoux, LA (2 hrs. south of New Orleans)." We had enjoyed watching them play when we were in Pearl River in December, and the above photos are from that game.
Wednesday, February 8
| | |
| --- | --- |
| | This is part of a full page feature in The Picayune, published on February 8. Jordan (#20) is in the middle of the front row and Lindsey is the next person to the right on the back row. |
| | |
| --- | --- |
| Jordan is honored as a senior soccer player and posed with Darla and Jeff. Her good friend Kylea is in the photo above. Kylea's Mom was Elyse's 5th Grade teacher at Riverside Elementary last year. | |
Friday, February 10
| | |
| --- | --- |
| | Elyse is ready to go to a school Valentine Dance. She is attending Creekside Middle School in Pearl River, LA. |
Elyse and friend Caitlyn at the dance. They share one class at school and work together with the young children at church.

This was a bit of a contrast with their experience together at the ice rink !
Saturday, February 11
| | |
| --- | --- |
| | Jordan has a new dress for the Valentine dance at Pearl River High School. |
| | |
| --- | --- |
| Cousins Bethany Moyle, Jordan Nave and Lindsey Moyle at the dance. | |
Sunday, February 12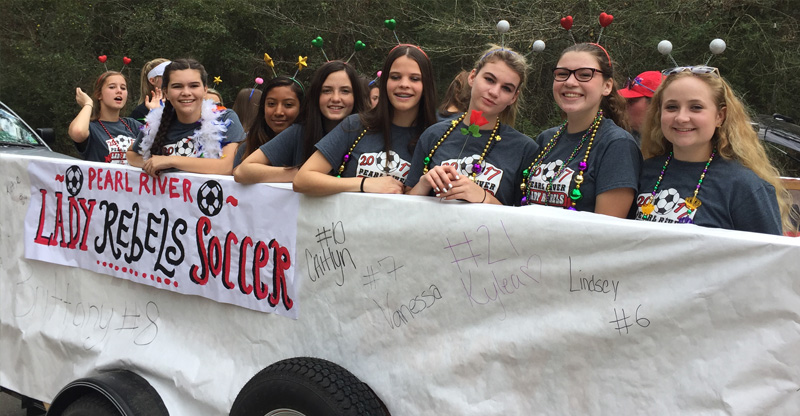 The Lady Rebels soccer team of Pearl River High School on a float in the parade. On the right end is Kylea Milton. She is a good friend of Jordan whom we had met at the "high tea" we celebrated back in 2015. Her Mother was Elyse's fifth grade teacher. Then there are the three-cousin midfield trio of Lindsey Moyle, Bethany Moyle and Jordan Nave.
| | |
| --- | --- |
| | Elyse shares a photo of a Valentine pillow sent by Grandma Brenda. It is good to be able to share photos by telephone. |
Index
2017