Boise and Surroundings
| | |
| --- | --- |
| | Rod's meeting of the American Association of Physics Teachers was at Boise State University in Boise, the capital of Idaho. August 7-12. |

| | |
| --- | --- |
| One of the family activities associated with the meeting was a relaxing float trip down the Boise River. There are lots of rivers in Idaho, and many of the highways parallel them. The Boise River ran alongside Boise State University where our meeting was held. | |
My participation in the AAPT meeting there strengthened his effort toward developing HyperPhysics in the HyperCard environment. I attended a workshop on Intermediate Hypercard: Hypertalk Scripting led by John Robson of Univ of Arizona, Tucson. There was a lot of emphasis on HyperCard because of its flexibility for hypertext, active graphics, and calculation using its programming language. That helped along the process of developing HyperPhysics. By the time I reached the AAPT meeting in Maryland in 1996, I had developed a major part of the framework of HyperPhysics.
| | |
| --- | --- |
| | One of the highlights of Boise for us was the fantastic rose garden in the city park. |
| | |
| --- | --- |
| We drove north on Hyw 55 through Horseshoe Bend and along the Payette River. We saw several groups of rafters along the way. The river was beautiful and we liked the green, tree-studded hills along the river. Throughout Oregon and Idaho we found the wild sunflowers. The land is dry enough that essentially all the crops depend upon irrigation. August 10. | |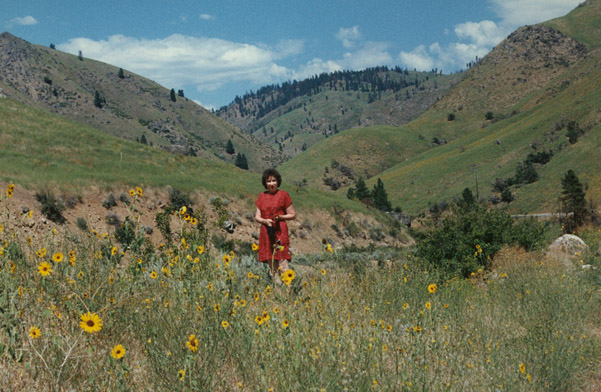 | | |
| --- | --- |
| Brenda along the Payette River north of Horseshoe Bend at the location indicated by the arrows on the map above. That map also show the location of the two pictures above and the one below. | |
| | |
| --- | --- |
| | This was a common site in this area. It looked like they were irrigating hay fields, and I presumed they were taking the irrigation water from the Payette River. |
| | |
| --- | --- |
| We drove the road to Lowman which followed the South Fork of the Payette River. It was a bit wilder and had some white water. The first arrow on the map indicates where we saw these rafters. | |
There were lots of rafters and kayakers on the South Fork of the Payette River. A short distance further on, the river dropped down into a deep gorge. The location of the picture at right above is indicated by the right hand arrow on the map.
| | |
| --- | --- |
| We followed the gorge of the South Fork of the Payette to Lowman. From there we took Hwy 21 back to Boise. This narrow, two-lane road snaked along the sides of the hills as shown and was pretty slow going. We covered about 150 miles on an enjoyable afternoon. | |
| | |
| --- | --- |
| | There had been a lot of talk at the meeting about how dramatic the Perseid meteor shower might be on this night, we decided to drive up Hwy 55 to a millpond just above Horseshoe Bend to have a picnic supper. The river and the hay farms at the base of the hills made it a pleasant drive. The hay farm shown above was about halfway between Boise and Horseshoe Bend. The millpond was a very nice place for a picnic. August 11. |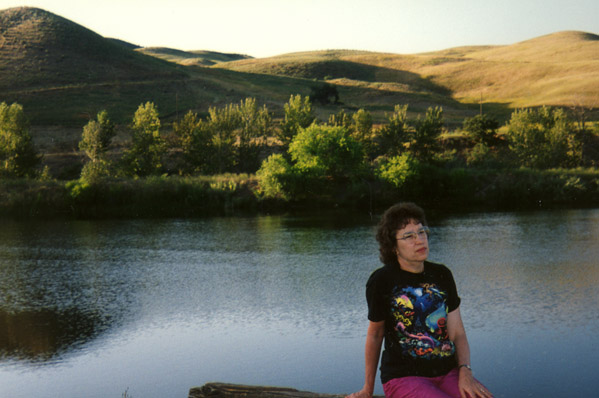 | | |
| --- | --- |
| After our picnic, we waited for it to get dark enough to see the expected meteors. It was very peaceful and pleasant there through the twilight, and we enjoyed the reflections on the pond and the changing light on the rolling grassy hills. It turned out to be almost 10 PM before it got really dark. We watched for about an hour after that and saw 19 meteors including two extremely bright ones with showers of sparks behind them. It was a memorable evening. August 11. | |
Index
1993