Fall Activities at Bent Tree
1977
| | |
| --- | --- |
| | Taking some time to finish cabinets at Bent Tree, Rod is varnishing cabinet doors. August 6. |
Lunchtime with Wesley, Jeff and Mark. August 6.
| | |
| --- | --- |
| Dennis Fennell came up to help us on August 13. Here he engages Mark in a game of Blockhead. | |
Dennis helps rod fit the cabinet doors on the base kitchen cabinets.
With the help of Brenda, we got the kitchen cabinets hung.
| | |
| --- | --- |
| Rod had to take some time off from construction to grade his final exams from Georgia State. At least this was a peaceful place to do it. | |
This view from the top of Buckskull Court, just below the house, shows the naturalness and tranquility of the area. It was nice to see the cloud formations over the mountains. August 18.
We made another trip to Bent Tree on September 3 for the Labor Day weekend, and Mark enjoys climbing the vines on the steep banks.
Jeff helps with the construction of the cabinet for over the range, with the cutout for the vent hood. September 4.
| | |
| --- | --- |
| | Brenda preparing the table. With the finishing of some of the cabinet work, things are taking a more homelike appearance. September 5. |
The newly constructed rock steps and wall seemed like a good place for a sword game to Jeff and Mark. September 5.
Aunt Bonnie playing parchesi with the boys. Things are far enough along now that we don't have to work on things all the time, we can take time out for some games.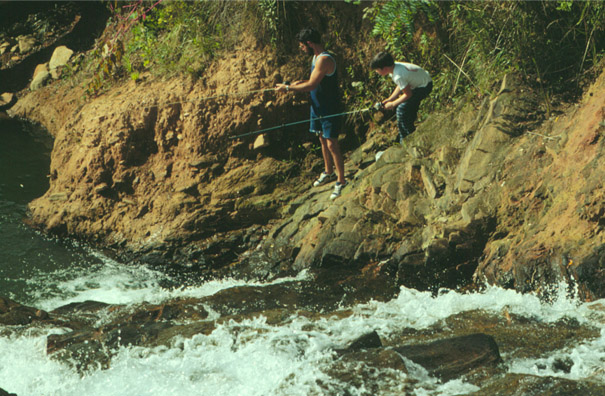 Uncle Andy fishing with Jeff below the falls at Bent Tree. September 5.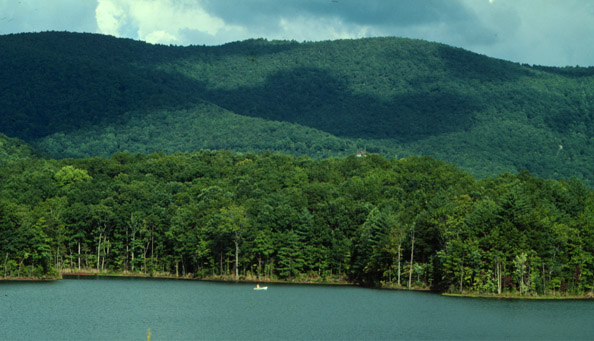 It was a beautiful day to be at Lake Tamarack, Bent Tree.
| | |
| --- | --- |
| | Jeff and Mark fishing at the dock with Aunt Bonnie and Uncle Andy. September 5. Mark displays his catch. |
| | |
| --- | --- |
| Mark carefully handling a fish he had caught. Jeff giving a hand with the line. | |
| | |
| --- | --- |
| | Jeff on dock with fish he has caught. Uncle Andy and Aunt Bonnie are good fishing coaches. |
Mark and Jeff helping to unload sand for the building of a rock wall by the side of the house. September 17.
The leaf colors got richer as we moved into October. This was on Chestnut Cove Trail, headed down the mountain from our house. October 21.