In Memory of Uncle Albert
July 3, 2012
Albert Edward Ivey

February 1, 1916 - July 1, 2012

The family gathered to celebrate the life of Albert who lived into his 96th year. This picture was taken at his 90th birthday celebration in 2006, with nieces Brenda and Sherry and daughter Lynne. There was also a celebration of his 92nd birthday in 2008.

One of my favorite pictures of Uncle Albert was way back in 1945 with Brenda and Wayne. Presumably he was just home from World War II. Another picture in 1946 shows him with Brenda and Bonnie after the move to Austell. There is a picture of him with Lynne in 1947 and one of him with the men in 1949. There is a picture with Bonnie in 1955. There is a picture of the family with Albert on the occasion of his marriage to Aunt Bill in 1977. We value a picture of him in 1994 at the memorial service for Marjorie. Uncle Albert visited with us on Thanksgiving 2000. He came to our Independence Day celebration in 2006 when he was 90.
A military funeral with flag-draped casket and the playing of taps honored Albert's service in the Philippines during World War II.

After the playing of taps the flag was lifted from the casket folded carefully.
| | |
| --- | --- |
| | After the flag was precisely folded, it was presented with a salute to Albert's son Wayne. After the service, Wayne presented it to Lynne. |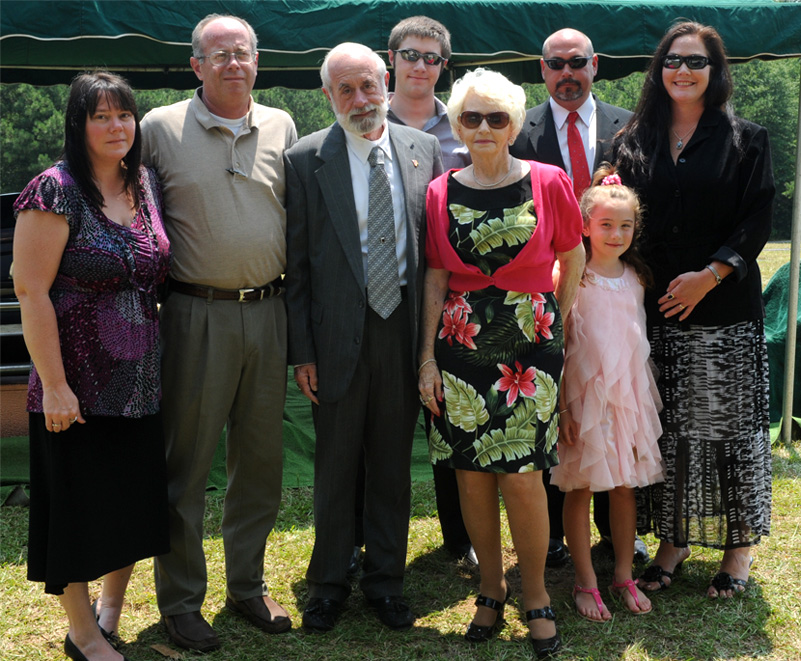 Suzanne and Scott Ivey, Wayne and Shirley Ivey with Stephen Ivey behind, Kevin and Melanie Ivey with daughter Madison. We remember that part of the excitement at the 90th birthday party for Uncle Albert was that Madison's birth was anticipated any moment.
| | |
| --- | --- |
| | Darlene, Lynne, Pat, Richard |
It was very meaningful to see the family together.

At left, Brenda with Wayne and one of his granddaughters, Madison. Below, Lynne and Pat with one of the granddaughters.
| | |
| --- | --- |
| We were pleased to get to go out to dinner with the family after the memorial service. Kevin and Melanie with daughter Madison and nephew Stephen. | |
Index
2012