Christmas Day at the Moyle's
After family gifts at Jeff's, we headed over to the Moyle's. We always look forward to gathering at the Moyle home with the nine grandchildren of the Moyle family. They decided that the couch in the living room was a good place to do this year's picture. Seated LR are Jessica Ringo holding Josiah Wells, Jonathan Ringo, Caleb Wells, Bethany Moyle, Jordan Nave, Lindsey Moyle. Then Ashleigh Nave climbed up on the back of the couch and Elyse Nave stretched out across everyone's lap. We are appreciative that they have welcomed us as part of this Christmas gathering, as they have done in 2015, 2014, 2013, 2012, 2011, 2010, 2009, 2008, 2007, 2006, 2005, 2004, 2003, 2002, 2001, 2000 and 1999.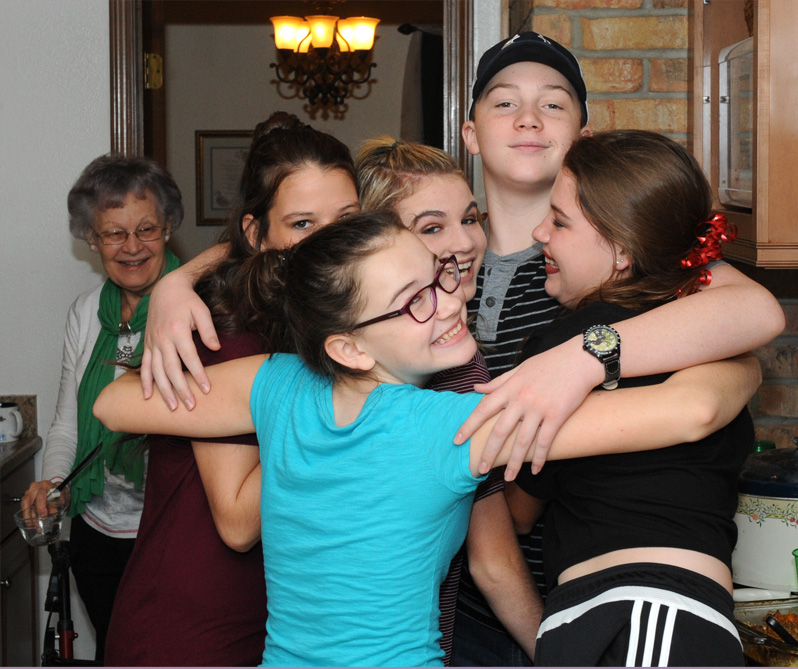 After early Christmas morning celebrations at home and early church services, the cousins begin to gather at Grammy's house for a late Christmas breakfast. Grammy watches as Lindsey, Elyse, Bethany, Caleb and Jordan greet each other.
Above, Caleb, Josiah, Lindsey, Jordan and Bethany all enjoying their electronics.




Even Grammy gets involved in the electronics - viewing a 3-D video on Jeff's viewer. Ashleigh and Josiah await their turn. The view changes with your head position over a full 360 degrees.
| | |
| --- | --- |
| Jordan, Bethany and Lindsey. We watched this cousin trio hold down the midfield for the Pearl River High soccer game on Tuesday. | |
| | |
| --- | --- |
| | After our late breakfast, we gathered around the fireplace and Christmas tree to exchange gifts. |
L-R: Elyse, Darla, Diane, Robbie, Brenda, Josiah, Jeff Moyle, Jeff Nave. Elyse delivers a gift to her Aunt Diane.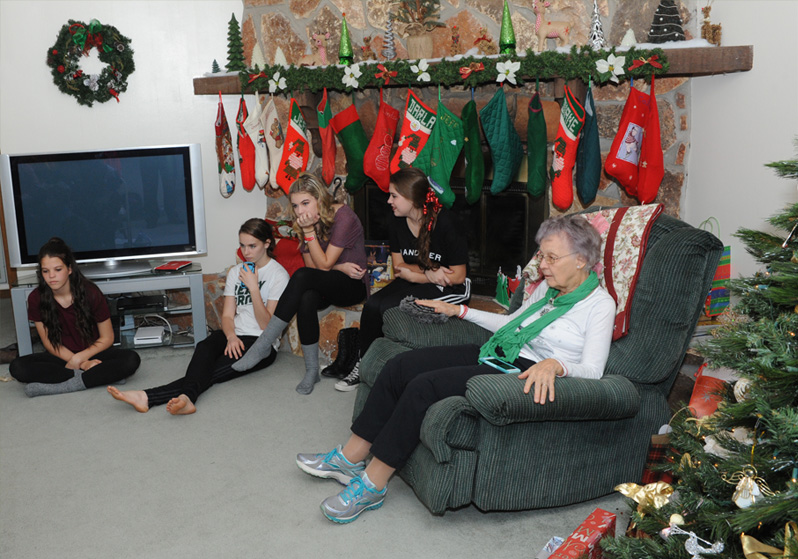 | | |
| --- | --- |
| Jordan and Grammy Judy enjoy the gift giving. | |
| | |
| --- | --- |
| | In the midst of the flurry of gift giving, Josiah takes a break and sits down to read a book. |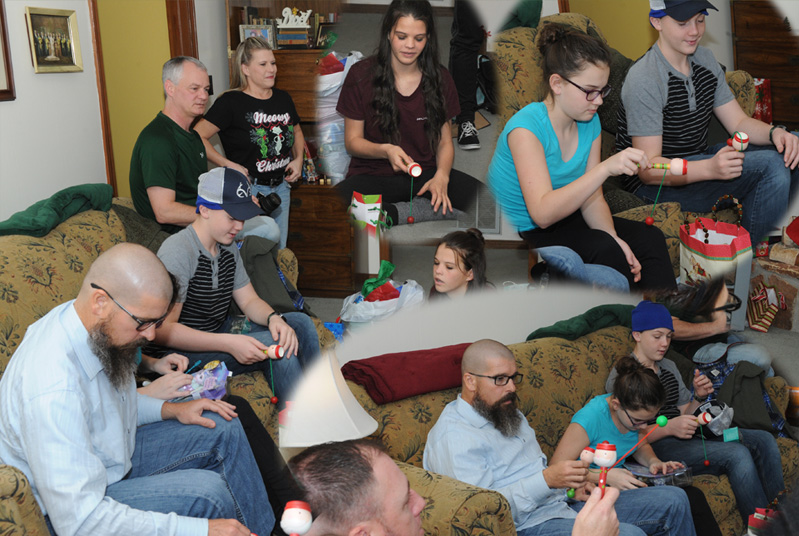 Gifts of little ball-swing puzzles caused quite a challenge around the room. By my observation, I would judge Caleb to be the champ.





Meanwhile, Josiah sticks to his reading!









The Village Makers
This year Grammy turned over to the grandchildren the job of putting together the snowy Christmas village. Elyse, Lindsey, Bethany, Jordan and Caleb were the constructors of the village.
Debbie, Jonathan and Jessica Ringo arrive to join the family celebration. Jonathan gets mobbed at the door.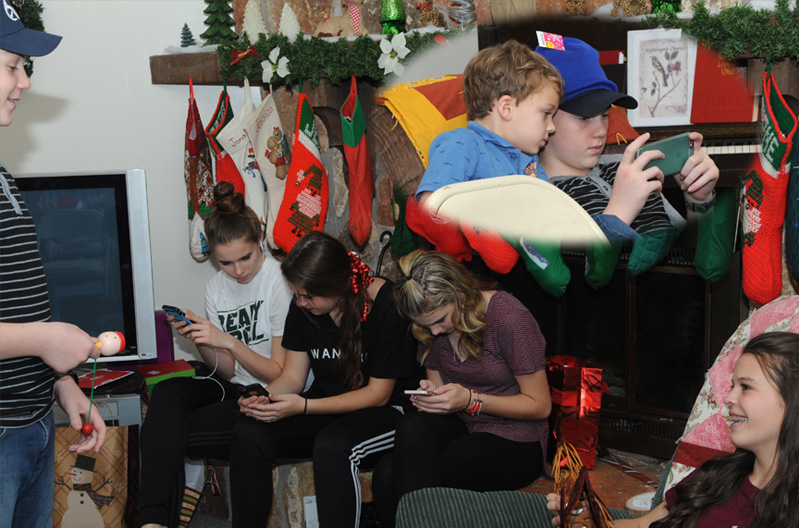 The girls are all on their phones while Caleb hangs onto his swinging ball puzzle. But later, he and Josiah get on his phone. It's a sign of this generation.
| | |
| --- | --- |
| Robbie and Josiah team up to build a lego helicopter. | |
| | |
| --- | --- |
| | The arrival of the Ringo family completed our expected family gathering. Tom Ringo was in New Jersey to pilot a plane back from there. We had a round of gifts with the Ringos. |
| | |
| --- | --- |
| Jessica got a set of makeup brushes. | |
| | |
| --- | --- |
| | And that drew a crowd of girls around her. |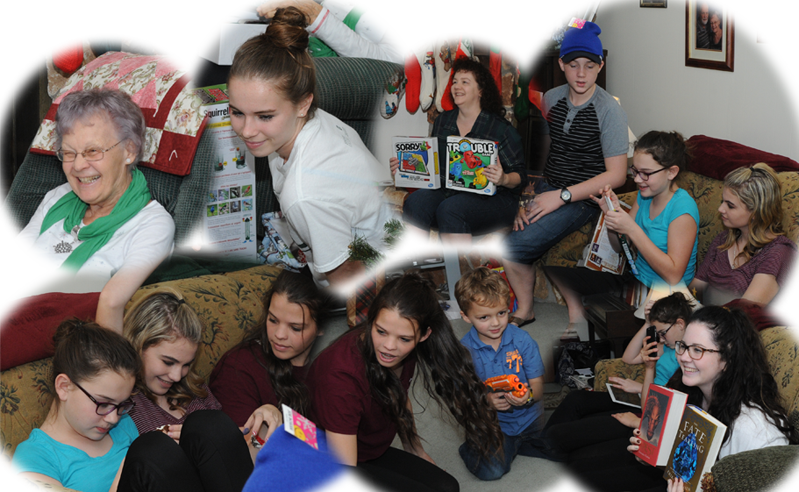 Elyse and Josiah as the youngest distribute the stockings. The stockings on the mantle are a long standing part of the Moyle Christmas tradition.
| | |
| --- | --- |
| | Elyse and Josiah may be the youngest members of the clan, but they are still ahead of me when it comes to mobile devices! |
| | |
| --- | --- |
| The playing of games on Christmas evening is also a long term Moyle tradition. | |
| | |
| --- | --- |
| | With a wonderful family meal and the evening games, Christmas day is brought to a close. We are blessed to have been a part of it. |
Index
2016