Georgia Tech BSU Alumni Gathering, Hiawassee
April 25-27, 2014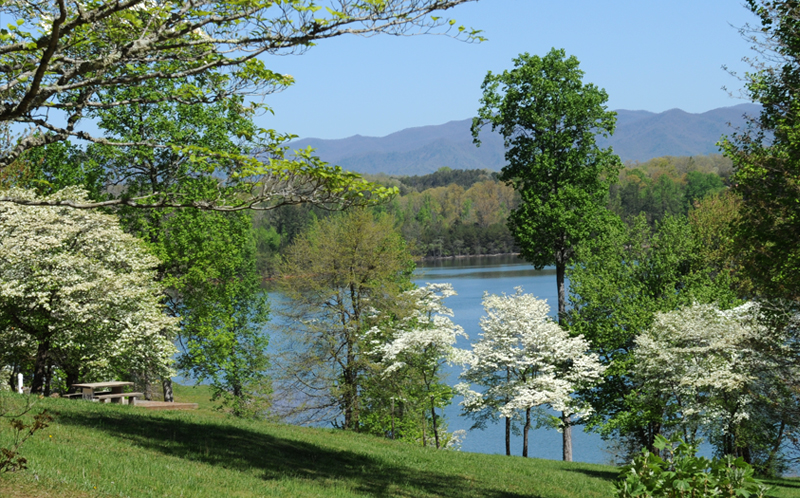 On this weekend, about seventy of us gathered at Lake Chatuge Lodge in Hiawassee for a reunion of those associated with the Georgia Tech Baptist Student Union. We have been gathering for well over 50 years now, and this beautiful lakeside setting suits us well as a place for this fellowship. We had last gathered here for Warren's 90th birthday celebration in 2011. We had previous reunions here in 2010, 2007, 2005, and 2000. During 2013 we had gathered for Warren's Memorial Service and for Sue's 90th Birthday as well as a spring gathering at the Gudger's.
Atlanta area gatherings have been held in 2014 at the Petty's, in 2013 at Athens Pizza, in 2012 at the Hammonds' and at Nancy Bonds', 2011 at Mary Mac's, 2009 at Nancy Bonds' and at the Rollins', 1981 at the Shelton's

| | |
| --- | --- |
| | This is the Sunday Morning gathering in which Frank Gudger led us in reflection about scripture verses that had guided our lives. We enjoyed continuing the fellowship that had started on Friday night. Sorry about the graininess of the blowups below, but I wanted to try a roll call of the group. |
Walt and Carol McKinney at left. Continuing across back row, Aubrey Bush, Andy and Alice Blake. Front row Carol Bush, Betty Fields, Jim Green, Bill Nowell. Front right, Babs Gudger.
Back row: Andy and Alice Blake, Henry Fields, Gil Gibson, Tommy Bonds, Front row: Jim and Gail Green with Bill Nowell behind them, Nancy and John Baxley, seated Babs Gudger and Tom Durrett.
Back row: Tommy Bonds, Ron Jones, Judy Bonds, Bill Norman, Clayton Teague, Beth Norman, Jerry Orr. Front row: Sam Shelton, Nancy Bonds, Linda Jones, Brenda and Rod Nave.
In the back I can see Duncan Sinclair, but Jan Sinclair is nearly hidden to his right. Next forward are Frances and Leroy Hendricks. Front row Elaine Whisnant, Frank Gudger and Dick Whisnant.
| | |
| --- | --- |
| | Going back to catch a glimpse of some who got hidden in other shots, there is Charlie Middlebrooks in back left, and just a bit of Wynelle Middlebrooks behind Brenda. Barbara Durrett behind Wynelle. A glimpse of Jan Sinclair behind Frances Hendricks. Beth Norman is behind Linda Jones. |
Index
2014