Georgia Baptist College of Nursing Alumni Day
October 15, 2021
We drove to the Mercer Atlanta campus and found the location for the alumni dinner and program. Upon walking in, we immediately found three longtime friends of Brenda's.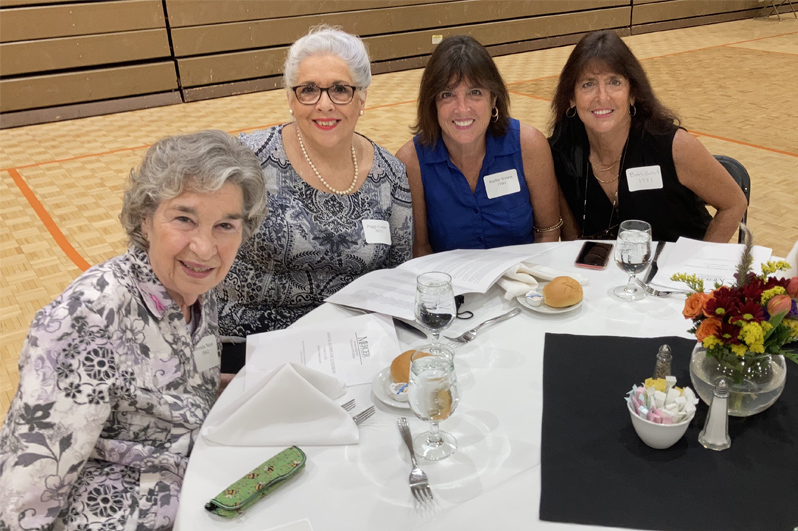 We sat down at the table with Peggy Cooper, Kathy Sitten, and Kathy's twin sister Beth Gallof. Peggy is a graduate of the Class of 1972, Kathy and Beth are graduates of the Class of 1981 and were roommates in nursing school. Brenda is a graduate of the Class of 1962. Sitting down, it was immediately worth the drive, and Brenda very much enjoyed the conversation with these friends.
| | |
| --- | --- |
| | We quickly found Susan Gunby and had a moment to chat with her. |
| | |
| --- | --- |
| We were watching for Debbie Miller to come in, and were able to chase her down to talk with her. | |
| | |
| --- | --- |
| | We found LaMae Williams and talked with her, and were joined by Janie Mercer. Janie is a friend and colleague of Bob Wade at Pinnacle. He had mentioned her to us before the gathering because she had asked him whether he thought Brenda would be coming to the Alumni event. |
| | |
| --- | --- |
| | Then we were joined by Kathy Barfoot. This photo was taken by Janie and she passed it along to us by Bob. |
| | |
| --- | --- |
| It's always a pleasure to talk with Shirley Rollins. Brenda worked with her many years on the Alumni Board. Shirley was the one who actually presented the Edna Earle Teal Award to Brenda in 1988, see below. | |
| | |
| --- | --- |
| | Brenda kept running into friends. She worked with Mescal Hunt (center) for years and recommended her to the Alumni Board. Claudia Waters is a friend from student days. |
| | |
| --- | --- |
| Brenda talks with Dean Linda Strait and with Dee Strickland, this year's recipient of the Edna Earle Teal Award. It was awarded to Dee at the end of a 40-year plus nursing career, while it was awarded to Brenda in 1988, in mid career for her. Dee graduated from GBH Nursing in 1961, the year before Brenda. | |
We got to visit with Gwen Sherwood, which was a surprise. One of the speakers for the morning professional session had an emergency and had to cancel. They scheduled Gwen two days before the event, so we had no idea she was coming. Gwen and Art live in North Carolina. She has had a prominent career with the Nursing program at the University of North Carolina and has spoken internationally in Saudi Arabia, China, and other locations.
We had attended the Georgia Baptist Alumni Day in 1992, 1995, 2002 (100th Anniversary) , 2003 , 2006, 2007, 2008, 2009, 2011, 2012 (Brenda's 50th Anniversary), 2013, 2015, 2017, 2018, 2019.


Index
2021